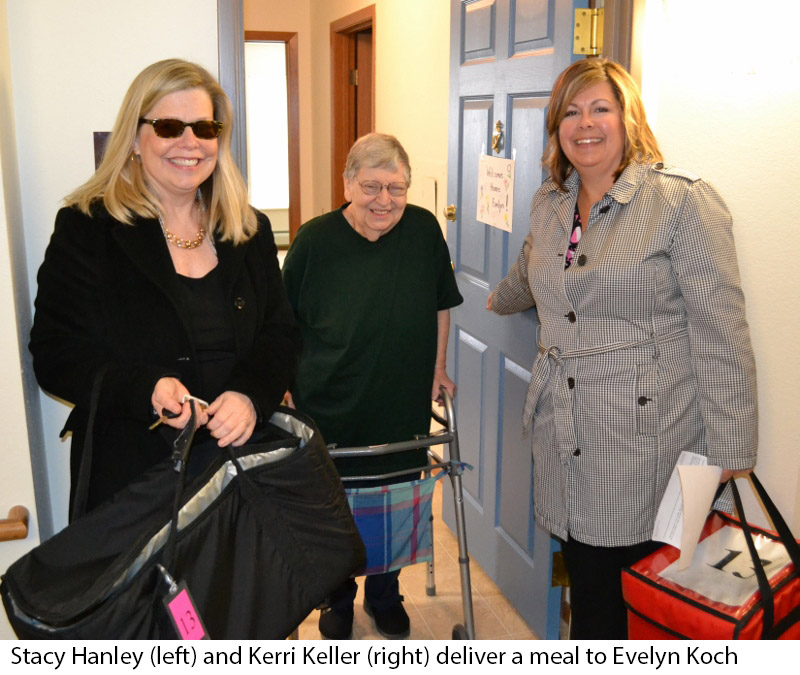 This is National Volunteer Week, a time to recognize and thank volunteers who lend their time and talents to important causes in the community. Ecumen thanks its many dedicated volunteers for all they do. Their contributions are generous and their stories are inspiring.
Stacy Hanley, Ecumen Senior Vice President and Chief Philanthropy Officer, is a passionate advocate of Meals on Wheels, one of the most popular volunteer activities of Ecumen employees.
"Everybody should do it at least three times and then decide what they think," Stacy said. "Most people will love it. It's super easy and so much fun!"
Meals on Wheels has a special way of bringing people together, according to a group of Ecumen volunteers. Recently, Stacy and colleagues Kerri Keller, Senior Director of Corporate Human Resources, and Jennifer Severson, Director of Corporate Communications, spent a lunch hour delivering meals.
"When you deliver a meal to someone, it's such an important part of their day," Stacy said. "It's as much about the social contact as it is about the food. What a lot of people don't realize is how much fun it is to deliver the meals. On my last delivery, I got a thorough update on the Wild, learned about a beautiful painting, and celebrated one person's efforts to walk every day. It is incredibly gratifying to provide a meal and spend a few minutes with each person."
"It was a really wonderful experience," Kerri said. "We made four visits, and we were met with a flood of appreciation. You could tell it made a difference in everyone's day – and mine too!"
"Meals on Wheels volunteering is such a great way to serve people outside of our Ecumen housing communities," Jennifer said. "The opportunity to both provide a vital service and personally give back to the community through volunteering makes me proud to be involved."
"It was fantastic," Stacy said. "I met four people I never knew before. Each visit took about six minutes of our time, and it was important. It made a difference in their lives. Plus, I laughed. I had fun. And I learned my way around a whole new neighborhood."
Stacy remembers the first time she volunteered – 25 years ago – because she met a coworker who became one of her best friends. "We are dear friends to this day," she said. "We bonded delivering meals and have stayed in touch all this time. It's that kind of experience."
Ecumen Receptionist Patti Holmes serves as the Ecumen volunteer coordinator for Meals on Wheels at the Home Office in Shoreview. "I'm extremely impressed by the organization and dedication of our local Meals on Wheels providers – the Mounds View School District," said Patti. "Our Home Office employees who go out on the route always appreciate that the food is ready and waiting and the directions are easy to follow."
Other Ecumen locations, including Ecumen Lakeshore in Duluth, Ecumen of Litchfield and Ecumen Parmly LifePointes in Chisago City, have longstanding Meals on Wheels or similar food delivery programs that they coordinate.
Meals on Wheels has been in the news lately because a federal budget proposal would eliminate funding that helps support community-level nutritional programs. The Star Tribune recently highlighted the issues for Meals on Wheels in Minnesota, where more than 50,000 use the service.
For more information on becoming a volunteer, go to meals-on-wheels.com or call 612-623-3363.