Policy and a Pint® Event Brings Aging Issues to the Millennial Generation
Millennials crowded into a downtown St. Paul bar recently to have a few drinks, socialize and talk seriously about aging. Yes, you read that right. Aging.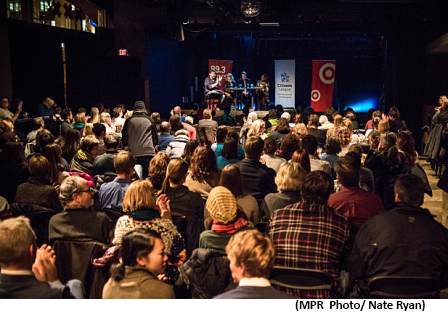 At the Policy and a Pint® event series co-sponsored by the Citizens League and 89.3 The Current, an engaged audience of the relatively young took an evening to focus on aging issues in a session entitled: How are we taking care of Mom? The Current's Steve Seel and guest panelists, including Eric Schubert, Ecumen Vice President of Strategic Initiatives, led the discussion on how changing demographics are shaping the way we think about aging in the 21st century.
The discussion also addressed issues that people in their 30s and 40s should be thinking about — from "the talk" with mom and dad, to finances, to housing and care options, to transportation challenges, to blended family obligations, to the process of being deliberate about how they want to live during our own golden years.
Listen to the hour-long conversation or download the MP3 or find choice quotes and photos from the event.