The Pirates of Prairie Lodge Set Sail on a Journey of Dramatic Fun and Adventure
Ecumen Prairie Lodge is experimenting with a drama program that helps residents with dementia put on a play.
A group of aspiring pirates gathers at Ecumen Prairie Lodge in Brooklyn Center as swashbuckling music plays in the background.
Life Enrichment Assistant Sherrie Dahlin assembles the group around the room, saying: "I feel like we should be swinging on a rope or having a sword fight."
Maybe one day in the near future they will — in a make-believe way.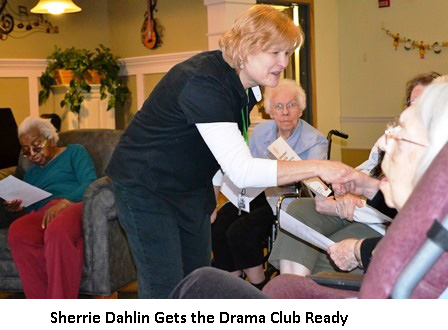 Right now the group looks nothing like a gang of buccaneers. What they have in common is dementia.
They are part of an ambitious activities program at Prairie Lodge that will slowly give them the skills and the confidence to put on a play called Ahoy, Me Pirate Tale! The program, called the Scripted-IMPROV™ Drama Program, was developed by Dr. John Zeisel, a dementia expert, former actor and President of Hearthstone Alzheimer's Care.
"The important thing to remember," Dr. Zeisel says, "is that people with dementia can improvise and respond to situations as easily as anybody else. The ability to imagine, improvise and have fun never goes away."
The Scripted-IMPROV™ Drama Program was developed as part of a two-year NIH/NIA-funded clinical trial in New York, Boston and Cleveland. Research showed increased engagement, reduced depression and a better quality of life.
The program takes 12 weeks of creating a drama club, electing officers, creating a mission and slowly building up to the final session where the club puts on a play. Prairie Lodge is now in its fifth week. The early meetings are designed to get the group primed to use their imaginations.
At a recent session, Housing Director Gabbi Langan works with Sherrie to help the group of 10 play a "shared story" game.
"We're going camping," Gabbi says. "I'll bring the tent. What are you going to bring?"
"Tomato soup," says Shirley. "We'll cook it on the fire."
"I don't like tomato soup," says Delphine. "How about pasta?"
For the next few minutes, the story builds, with contributions from around the room. The point is that everyone is engaged, offering ideas, participating.
When the camping story wraps up, Sherri starts a new exercise.
"Let's pretend we're in a castle," she says. "What's in the castle?"
"A swing," says Dorothy. "That would be nice, I think."
"A dog or a cat," say Adrien.
"A queen," says Joe.
"What's the queen's name?" Sherrie asks.
"Mary. Mary, Queen of Scots."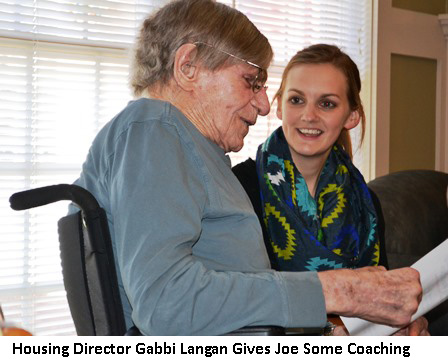 And the story builds into having a castle celebration of Adrien's brother's birthday with white and blue decorations and chocolate cake with chocolate frosting. Debates about the menu get feisty. The detail gets richer, the engagement higher, the smiles wider.
As the group creates its story, Janelle Meyers, Ecumen's Regional Manager of Memory Care, looks on and likes what she sees. Janelle, a former activity director, brought the program to Prairie Lodge for a test run.
"The program focuses on what people with dementia can do," Janelle says. "I like it because it's so different from typical arts and crafts activities. It's all about learning in the moment. It's mainly about the process of engagement rather than the end product."
While the play itself offers a goal for the drama club, Janelle points out that "it's a play with no lines to remember." Everything is improvised in the moment — something people with dementia can do. Believing that "everyone can" is a key principle of the drama club.
Dr. Zeisel says the concept of a club is something everyone can relate to. The club is about shared purpose, friendship and doing something meaningful the members can feel good about.
Good facilitation is key to a successful program, according to Janelle, who says the Scripted-IMPROV™ online training is excellent and allows staff quickly to learn how to engage a group and go with the flow of responses to create a story. "There is no right or wrong way to do the play," Janelle says. "And anybody can do it."
Before the program started, Ecumen Prairie Lodge staff used a geriatric depression scale to take baseline measures of participants. After the 12 weeks, they will measure again to see if the program reduced depression — which is common among those with dementia.
Also, Janelle says she'll be looking at another more subjective measure: are the participants having fun? That's the true spirit of the program — making life fun in spite of dementia.
Stayed tuned. We'll be back in July with a review of the play, which Dr. Zeisel promises "is always successful."