Parmly Residents Help the Homeless by Transforming Plastic Bags into Beds
A group from Ecumen Parmly LifePointes transformed plastic bags into comfortable beds for the homeless.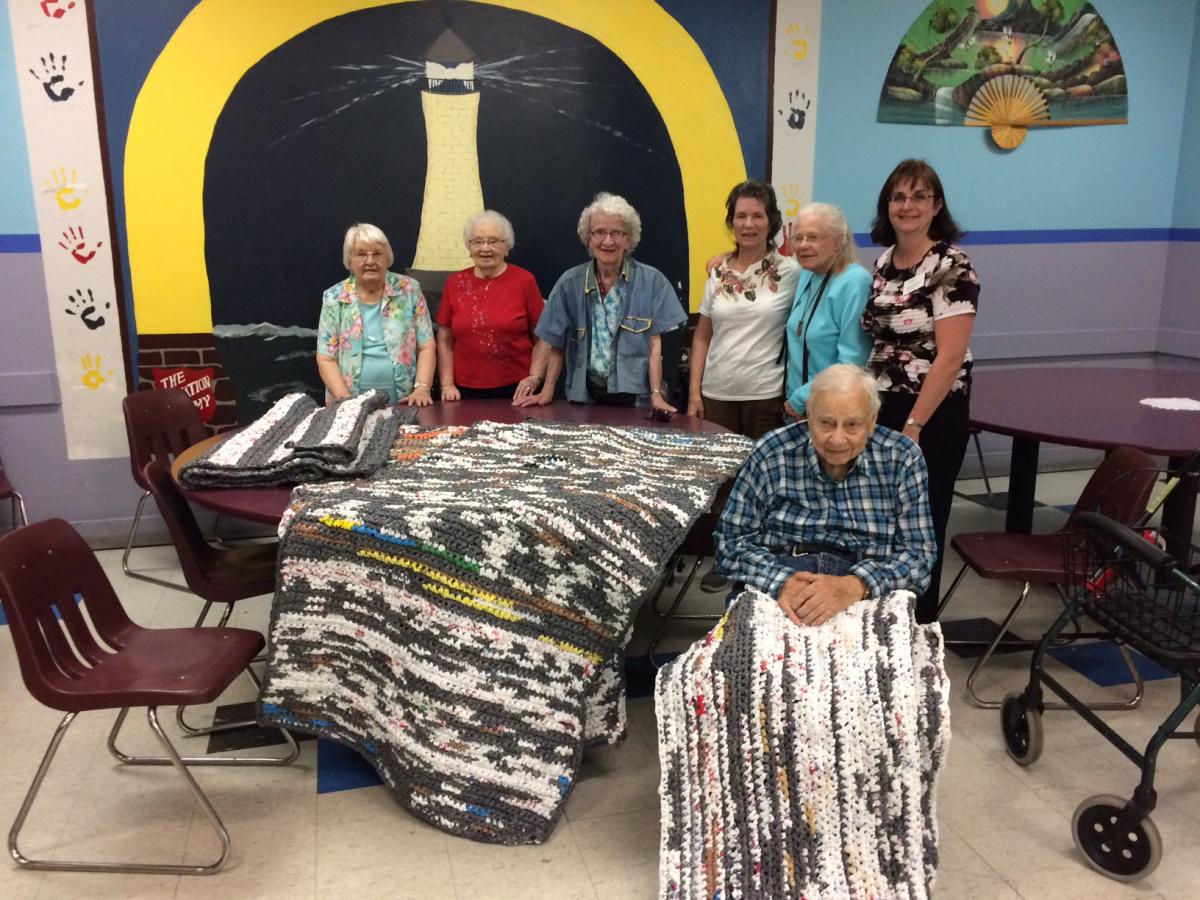 Mat-makers from left to right: Eunice Anderson, Dorothy Bruce, Marilee Fredrickson, Helen Haus, Joan Peterson, Kathleen Manning and (seated) Bob Meyer.
A small group of residents and volunteers from Ecumen Parmly LifePointes took a bus ride to the Salvation Army Harbor Lights homeless shelter in Minneapolis last week to make a heartfelt donation that had taken them all summer to create.
They transformed thousands of plastic bags into sleeping mats that are surprisingly comfortable and attractive, as well as being waterproof, lightweight, and good insulation from cold concrete.
Making the mats is a time-consuming process that involves flattening and cutting the bags and winding them to create "plarn" (plastic yarn). The "plarn" is then crocheted to make the mats, which create a soft sleeping surface.
The impetus for the project came from Ecumen CEO Kathryn Roberts, who heard about the worldwide movement of church and community groups to help the homeless by making the plastic mats. Kathryn mentioned the initiative to Director of Innovation Janelle Meyers, who passed the word along to Ecumen activity directors.
The idea quickly gained traction at Parmly, where Life Enrichment Manager Kathleen Manning found residents eager to give mat-making a try. In May, Kathleen organized a collection drive for plastic bags and the response was overwhelming. Bins were soon overflowing.
The mat-makers started converting the bags to "plarn," and one super-volunteer, Joan Peterson, began to crochet. "She just crocheted her heart out," said Kathleen, sometimes working until the wee hours of the morning.
"God sent Kathleen to me, and He gave me the strength to do this!" said Joan.
Each mat requires 600 to 700 plastic bags and at least a week's worth of crocheting. At the end of the summer, five mats were completed. "It's so much work!" Kathleen said. "It was a lot of work and a real team effort."
Last Wednesday, the group was excited to go to Harbor Lights, where they were graciously received and profusely thanked for their donation by Volunteer Coordinator Deidre Hope, who acknowledged their hard work and giving spirit. She gave them a tour and talked about the shelter's work serving more than 600 homeless people each day and the overwhelming need for basic donations like food, socks, underwear and toiletries.
That ignited another idea. The group told Kathleen they wanted to do a collection drive to help out, and now that is in the planning stages for later in the year.