Noted Chef Steve Knowlton Brings His Passion for Food to The Classic at Hillcrest Greens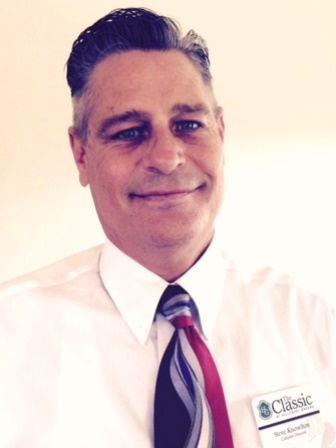 Chef Steve Knowlton has made his mark in trendy restaurants. Now he's challenging himself to raise the bar on dining in a senior living community.
Steve Knowlton has made his mark as a forward-thinking chef who created two successful restaurants and felt the glow of celebrity and rave reviews. Now he's cooking up a whole new career as the Culinary Director at The Classic at Hillcrest Greens in Altoona, Wisc., challenging himself to make this senior living community's dining experience something to buzz about.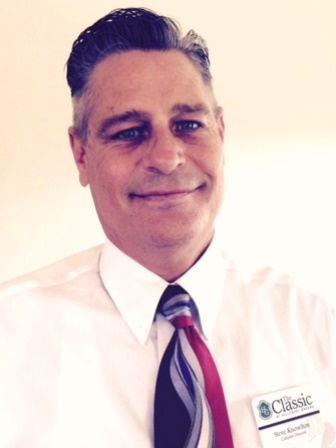 Steve's recipe for success is all about simple and fresh — five ingredients at the most. It's worked for him throughout his career. "More than five ingredients overwhelm the brain," he says.
Back in the 1980s, Steve was doing farm-to-table menus in Minneapolis, long before it was the rage. In fact, he's been doing it all his life. He's a Wisconsin farm boy who learned to cook at his mother's knee and truly became a chef when celebrated restaurateur Lucia Watson mentored him in the art of using simple, fresh ingredients to astonish the palate.
As The Classic at Hillcrest Greens, managed by Ecumen, prepares to open July 1, Steve is polishing his menus and lining up his suppliers. Getting fresh ingredients every day is anything but simple. Sourcing fresh, high quality ingredients requires considerable upfront arranging.
When the doors at The Classic open and the grill starts sizzling, Steve will be drawing on 40-plus years of preparation. His passion for food and cooking goes back to childhood. He grew up on a dairy farm in Cumberland, Wisc., where his family always had a large garden. "Putting up vegetables and fruit was a family affair," he recalls. "My family would shuck and cut corn from the cob, pick berries in the woods and make pickles to be sold at market. We raised our own beef and traded it for chicken and pork. We drank milk from the bulk tank and always had fresh whipped cream to top our Jell-O for Sunday dinners."
His mother was both a good cook and a good teacher. By the time he was 10, he was making family meals. By the time he was 16, he was a line cook at the Pokegama Inn in Chetek, Wisc. Along the way, he also spent a lot of time with his grandmother, who taught him not only cooking basics but also the art of hospitality and entertaining.
The next big leap in his culinary education came when he joined the U.S. Navy in the submarine service. He was a captain's steward on the USS Flying Fish, where he had the opportunity to cook for foreign dignitaries — and become exposed to a world of food he had not seen back on the farm. "This was the best time of my life," Steve recalls. "We would pull into port, and I was shopping for food in Europe. I would get sent to Paris with a blank check to buy dairy and produce."
On the submarine, he worked under the sea in a 20' by 20' kitchen, holding to a bar as he cooked, rocking back and forth — once for 98 days at a stretch. Everything was prepared from scratch and something was always cooking.
"I was young and dumb," he says, so the submarine service was more fun than it should have been. Plus, the experience "set a standard and a work ethic." In those confined quarters full of 120 hungry sailors, there was just no room for excuses.
Back from the Navy, in the mid-1980s, Steve got a job at Lucia's, a then-fledgling, now-famous Uptown Minneapolis restaurant pioneering the farm-to-table movement. Owner Lucia Watson, who would go on to become one of the most celebrated chefs in Minneapolis, took him under her wing. She showed him how to turn simple and fresh into exquisite.
Also during that time, Steve was taking courses from Lynne Rossetto Kasper, the acclaimed cookbook writer and food journalist, who taught him how to taste the essence of ingredients and combine flavors.
Then he went out on his own in 1987, starting Café Wyrd in Minneapolis in partnership with well-known restaurateur Kim Bartman. Sticking to his abiding principle of simple and fresh, he specialized in organic vegetarian food — which was unique at the time — and in catering to live performance events, especially at First Avenue nightclub in Minneapolis, where he cooked for rock stars such as Tina Turner, Cindy Lauper, Nirvana and Metallica.
"I was such a young kid," Steve recalls. "And here was Nirvana calling me out of all the people in Minneapolis. I just thought I was everything."
After about 10 years, he sold Café Wyrd at a profit and moved back to his Wisconsin homeland, where he started Easy Creek Bistro in Arkansaw, about 45 miles west of Eau Claire. City Pages called Easy Creek "a country gem" and anointed it "the best restaurant in the middle of nowhere." The diners came — again to enjoy fresh locally produced food, simply prepared. And again, Steve sold the business at a profit in 2005.
Briefly he tried going corporate, working for Pizza Hut to help establish their bistro concept and learn about the chain restaurant business. Quickly he realized he'd made a wrong turn. "I didn't fit," he says matter-of-factly.
So he reoriented, feeling the need to do "something with purpose." He took a job with Aviands, a food service company, where he got the opportunity to help establish a Meals on Wheels Program for Dunn County, Wisc. Then, still working with Aviands, he moved to OakLeak Surgical Hospital in Eau Claire, convinced he could raise the bar for hospital menus.
"I found I really liked the atmosphere," Steve says. "I wasn't just cooking. I was helping people with their diets and educating them about food. One of my favorite things to do is talk about food."
That path naturally led to senior living and The Classic at Hillcrest Greens. "My interview with Jamie Smith, the Executive Director, was a breath of fresh air. Her commitment to raising the bar for senior community dining has inspired me."
Steve will be establishing a resident advisory council on dining, but he's getting a head start as people sign up to join the community. "I'm talking to every new resident about food and diet, learning about their preferences," he says. "I love this part of my job."
The Classic will offer made-to-order breakfast, lunch and dinner in three venues — Palmer's Restaurant, the Fairway Café, and Bogies Bistro and also will have a private dining room for catered events. The patio, overlooking Otter Creek, will have weekly activities with live music and wine tastings.
The menus will, as always, be fresh and simple, and cater to the tastes of the residents. "We're really good eaters here in Wisconsin," he says. "I will be versatile. My goal is to be able to provide anything the residents can think of. I have a passion for food — and also for customer service."
——
About The Classic at Hillcrest Greens
The Classic at Hillcrest Greens, located at 2455 Sawgrass Place in Altoona, includes 99 rental apartments for people 55 and older — 63 designated for independent or assisted living residents and 36 for memory care residents.
The Classic has numerous common spaces including a spa/salon, exercise/yoga studio, bistro, chapel, game room and a two-story lounge area with a view overlooking a wooded area and bluff. Located on the former Hillcrest Golf & Country Club, The Classic senior complex is part of the Hillcrest Greens master-planned neighborhood, an intergenerational development that also includes single family housing, bay homes and townhomes on more than 178 acres of pristine woodlands and scenic rolling hills.
The community is adjacent to more than 65 acres of public park, with 6,000 feet of frontage on Otter Creek (a Wisconsin Class II Trout Stream), 3.5 miles of bike and walking trails and sidewalks, three ponds and park amenities that include a playground area, a pavilion, basketball court, pickle ball court, and a putting/chipping green.
For more information, call the sales office at 715-839-0200 or visit the website at http://theclassichg.com/. Or stop in for a tour.
Chef Steve's Spinach Walnut Pesto
In a food processor combine:
3 very large handfuls of spinach
Garlic to taste (about 3 large cloves)
1 cup of lightly toasted walnuts
1 cup of freshly grated parmesan cheese
Juice of ½ lemon
Start with 1 cup of olive oil and pulse until smooth (add more oil if needed)
Season with salt and pepper to taste.
This can now be frozen in ice cube trays. After it is frozen, place in a zip lock bag and place back in the freezer for future use.
This pesto can be used on fish, mixed with sour cream or cream cheese as a dip or spread, or combined with cooked pasta and topped with fresh copped tomatoes for a finishing touch.
Enjoy!