Nicole Larson Receives Ecumen's Powerful Partner Award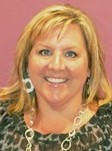 Nicole Larson of Ecumen Home Care & Hospice has won Ecumen's Powerful Partner Award for her hospice fundraising work.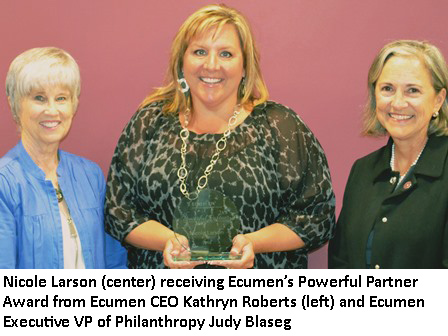 Nicole Larson's mission is to make every day count for people near the end of life.
As Volunteer Coordinator at Ecumen Home Care & Hospice-Litchfield, she helps find ways to make last wishes come true. That usually takes money.
Nicole is passionate about rallying the Litchfield community to help those in hospice, and recently she was recognized by her Ecumen colleagues for her exemplary work. At Ecumen's recent annual leadership meeting, the Ecumen Philanthropy Department gave Nicole the "Powerful Partner Award" for working collaboratively to make Ecumen of Litchfield's annual hospice dinner and auction fundraiser a huge success.
"At the hospice dinner we all come together because of a common thread — that we have lost a loved one," Nicole says. "But it's not an evening of sadness. It's filled with wonderful memories and caring feelings. People who have had uplifting hospice experiences with their loved ones come together to help others have a memorable experience as well."
Nicole says working on the hospice benefit gave her a chance to be out in the community more. She talked with many business owners and community members who had beautiful stories about how hospice made a difference to their families.
Still, there is a stigma around hospice among those without any direct experience, Nicole says. "Community education about the many positive benefits of hospice is essential."
The funds raised for hospice go toward adding special touches to the lives of people near the end of life such as the client who wanted to go to a Twins baseball game or the client who wanted one last gathering with her family.
Judy Blaseg, Ecumen Executive Vice President of Philanthropy, said Nicole was picked for the Powerful Partners Award because she collaborates to use the full capability of Ecumen's fundraising organization to make her projects a success.
"Nicole truly understands how to work both in the Litchfield community and with the Ecumen Philanthropy Department to raise funds that make the hospice experience special," Blaseg said. "She is truly a Powerful Partner so deserving of this award."
Nicole says she loves building positive working relationships and friendships as she goes about her job. "I love when people come together to accomplish a task and encourage one another along the way," she says. "And I love working with the Philanthropy Department. Even though we may be in two different locations, our goal is the same."