NOVI, MI – Rose Senior Living at Providence Park, a new state-of-the-art senior living community on the St. John Providence Hospital Campus in Novi, MI, held its official ribbon cutting May 17, 2018.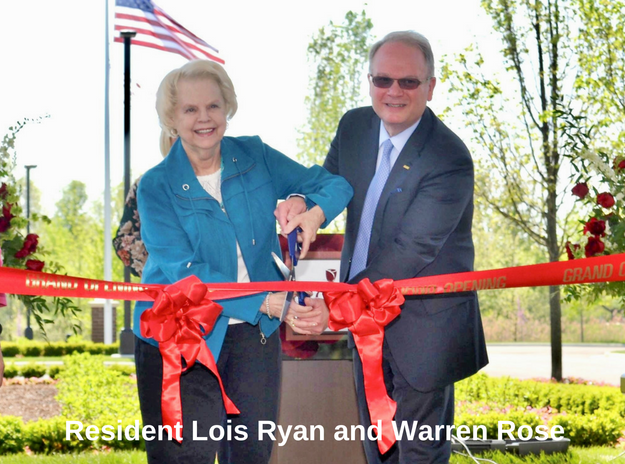 About 200 people joined in the ceremony led by Tiffany Koerner, Sales and Marketing Director of Rose Senior Living Providence Park with speakers David Staudt, Mayor Pro Tem of Novi, Joseph Hurshe, president of St. John Providence-Providence Park Hospital, and Warren Rose, CEO of Edward Rose and Sons, the developer and owner.
The new community is designed for easy access to shopping, recreation, entertainment – and especially health care. "We are all about convenience, walkability and options to age in place," said Amber Bach, Executive Director of the community. "Seniors increasingly are living longer, healthier and more active lives, and our community was built specifically with these trends in mind."
The 190,000 square foot community is located at the northwest corner of Beck Road and 11 Mile Road in Novi, on St. John Providence-Providence Park Hospital campus. The building's amenities include multiple dining venues, a café, theater, activity areas, a salon and extensive landscaped courtyards that offer a variety of outdoor activities — all at a value-based price point. It has 182 units — 69 independent living units, 75 assisted living, and 38 memory care and offers increased levels of personalized service as residents age-in-place, including a 24-hour care staff. In total, the community employs about 80 full-time and 20 part-time staff.
The design and development was a collaborative effort between Rose Senior Living, St. John Providence, and the City of Novi. The community is managed by Ecumen, one of the top 25 nonprofit providers of senior housing and aging services in the country. Rose Senior Living has a strategic partnership with Ecumen, which also currently manages Rose Senior Living communities in Clinton Township, MI, Avon, OH, Carmel, IN, and Memphis, TN.
Rose Senior Living is a division of Edward Rose and Sons, a privately held Michigan real estate development and management company based in Bloomfield Hills, MI.
For more information on Rose Senior Living, visit www.roseseniorliving.com. For information on Ecumen, visit www.ecumen.org. Providence-Providence Park Hospital and St. John Providence, please visit www.stjohnprovidence.org.