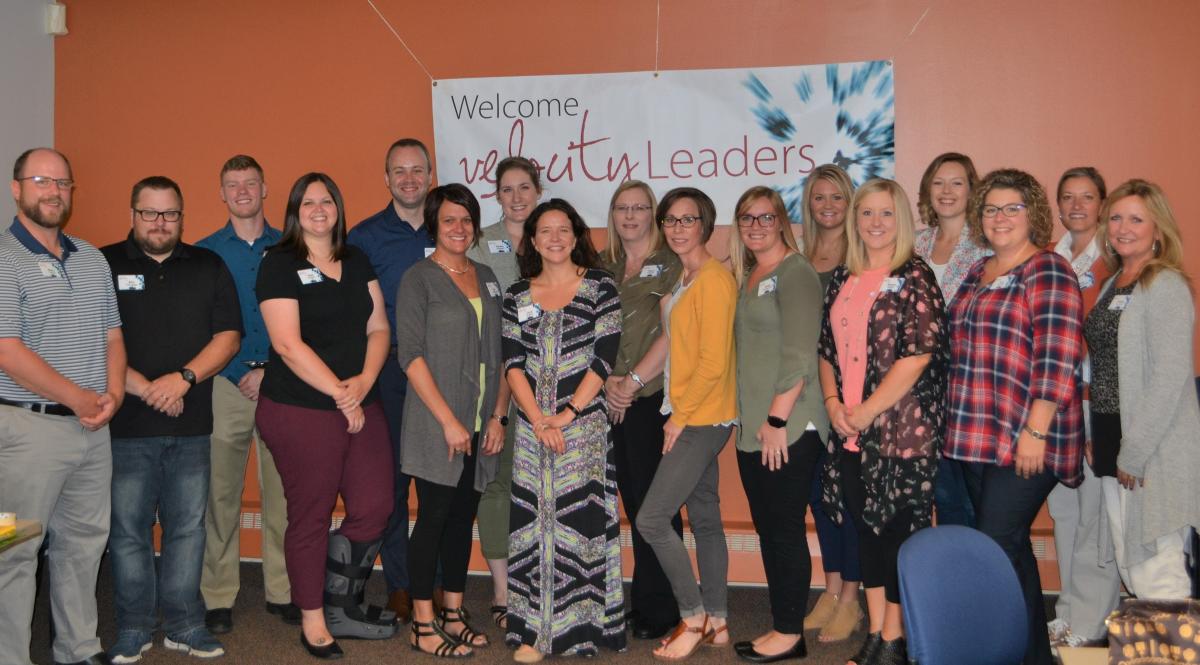 The Ecumen Velocity Class of 2018-2019 and mentors (left to right): Blaine Gamst (mentor), Billy Flanagan, Collin Baska, Hope Hagert, Brian Horvath, Kari Francois, Kelsey Bibeau, Jena Evans, Karen Holicky, Laura Boreen, Amber Hernandez, Jennie Lippert, Brianna Sather, Helen Kyle, Tami Johnson, Amy Korzenowski (mentor), and Shelley Matthes (mentor).
The Ecumen Velocity Class of 2018-2019 recently held its first session, embarking on a year-long program focused on building leadership skills and developing innovative approaches to aging services and a world without ageism.
The Velocity program, now in its ninth year, encourages broader thinking, exploring innovative approaches, and developing each individual's authentic personal leadership style. To practically apply the course work, the class will be assigned two action-learning projects addressing real issues facing Ecumen and the aging services industry. The projects will be assigned in October.
Graduates describe the program as a journey of self-discovery that gives participants the time and the tools to develop themselves. The program emphasizes collaborative problem-solving incorporating different approaches and perspectives. Participants come from all parts of the company, and graduates cite exposure to the diverse thinking of their colleagues as a key benefit of the experience, along with the strong bonds that form with colleagues.
Initially, participants do self-assessments and get feedback from coworkers to inform the emotional intelligence and authenticity segment of the program, which marks the start of the process. Participants spend 10 to 15 hours a month on Velocity program activities. Four times during the year, the group gathers for a two-day that includes in-depth discussions, readings and conversations.
Carolyn Perron, Vice President of Organizational Development, and Christy Johnson, Regional Training Director, co-facilitate Velocity, and mentors from Ecumen senior leadership work closely with participants. For this year's class, the mentors are Amy Korzenowski, Vice President of Operations, Shelley Matthes, Senior Director of Quality Improvement and Resource Utilization, and Blaine Gamst, Executive Director of Ecumen Lakeshore. Following is a listing of the Velocity 2018-2019 class:
Amber Hernandez, Ecumen Seasons at Apple Valley
Billy Flanagan, Ecumen Seasons at Maplewood
Brian Horvath, Ecumen Home Office
Brianna Sather, Ecumen Seasons at Apple Valley
Collin Baska, Ecumen Centennial House
Helen Kyle, Ecumen Home Office
Hope Hagert, Ecumen Oaks & Pines
Jena Evans, Ecumen Lakeshore
Jennie Lippert, Ecumen of Litchfield
Karen Holicky, Ecumen Pathstone Living
Kari Francois, Ecumen North Branch
Kelsey Bibeau, Ecumen North Branch
Laura Boreen, Ecumen Detroit Lakes
Tami Johnson, Ecumen Home Office