On National Nursing Assistant's Day: Meet Bev Jacobs at Ecumen Prairie Lodge and Her Chorus of Admirers
Beverly Jacobs, a Resident Assistant at Ecumen Prairie Lodge, is sitting at a table off in a corner, probably wishing she had never agreed to this interview. She's a person who loves giving attention to others — but not so much drawing attention to herself.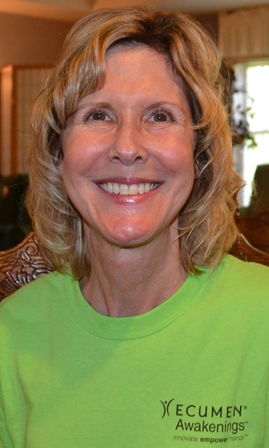 She sees a balloon volleyball game starting across the room and escapes from the table to get in the middle of it.
The occasion for the interview is National Nursing Assistants Day — a day to honor the caregivers who do the real boots-on-the-ground work in healthcare. They are the infantry of caregiving, and most anyone in senior care will tell you it's one of the hardest jobs on the planet. The job is meeting the daily needs of older adults in assisted living or nursing homes — whatever those needs may be.
Bev has been doing this for an unusually long time. It's the only job she's ever had. She watched the building go up in Brooklyn Center 18 years ago and has been working here ever since.
Back at the table, the interviewer asks her: Is the job as hard as people say?
"It's not hard if you love what you're doing," Bev says with a blinding smile. "Making people happy, caring for them, meeting their needs… I love that."
How does she go about her job?
"I listen first," Bev says. "I hear what their needs are, and I just try to fulfill them. If I don't know how to do that, I find somebody who can."
She feels appreciated, she says, in so many little ways every day, like when the residents anonymously leave candy for her at the nurse's station. "I can usually guess who it's from," she says, "by the type of candy they leave."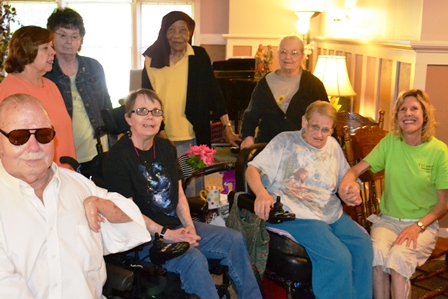 As she's talking, a curious but hesitant crowd begins to gather. One by one, the residents ease over in their wheelchairs and walkers until a half dozen have assembled. "What's going on with Bev?" a resident pointedly asks.
The interviewer explains that June 11 is National Nursing Assistants Day. Ecumen would like to honor its Nursing Assistants, he says, and Bev has been singled out for an interview because she is a fine representative of her profession.
Spontaneously, the group bursts into applause. Several residents come over with big hugs.
What do they think of Bev?
In unison they exclaim: "We LOVE her!"
What do you like about her? One by one, they shout:
"She treats everybody like they're special."
"She's efficient."
"She knows her job."
"She's patient."
"She's fun."
"She really cares about us."
As the chorus of praise fades, a resident offers this wisdom: "It's like she's our mother — just younger than us."
They all agree that Bev is like family. They say when she takes a few days off work, they miss her dearly and the halls of Prairie Lodge echo with the refrain: "Bev does it this way!"
The way Bev does it comes through loud and clear.
From the heart.