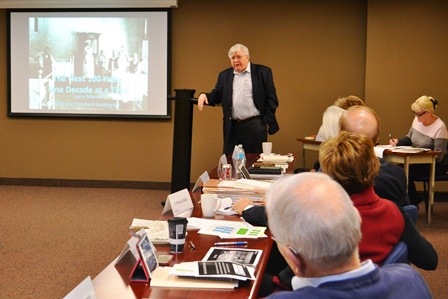 LeadingAge President and CEO Larry Minnix, in his last speaking engagement before he retires, visited Ecumen yesterday and told the Ecumen Board of Trustees "working with people like you has been an unbelievable experience."
For the past 15 years, Minnix has been the head of the LeadingAge, the national trade association of nonprofit providers of aging services.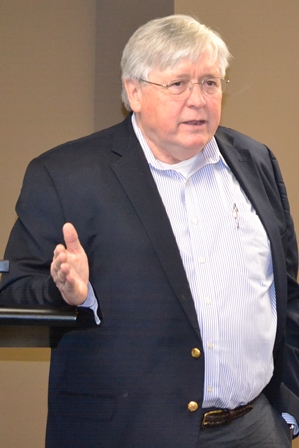 "At Ecumen you have a transformational leader and have created a transformational organization," Minnix told the Board. "In our field there are a handful of leadership organizations, and you are a bell cow."
He praised the work of Ecumen President and CEO Kathryn Roberts, who was recently installed as Chair of the LeadingAge Board of Directors and thanked Ecumen Trustees for choosing to devote their time to issues of aging.
"There's no more important and impactful place than aging," Minnix said. "The aging phenomenon around the world is dictating the economic stresses we are all feeling."
In the United States alone, he said, about 10,000 people turn 65 every day and few have a plan for how to fund their later years. "We all hit 65 with a balloon note that will come due at some time," he said. "Studies show that 80 percent of people prepare for death but only 17 percent prepare for living a long time."
Minnix commended the Ecumen Board for its commitment to innovation. The not-for-profit sector is the "crucible of innovation," Minnix said. "We innovate. Any major new service over the last 100 years around aging has come out of an organization like yours."
Yet, he said, "We've had a hard time getting corporate American to care about what we do."
He encouraged the Board to remain consumer focused and market driven in all its deliberations and not to shy away from advocacy and partnerships. "We're in the relationship business," he said.
"You have stood the test of time," Minnix said of Ecumen's 150+ years in operation. "But the governance that got you here, won't get you where we need to be in the future. But you already know that. You're way ahead of the curve."