The Minnesota Boychoir Brings Early Mother's Day Joy To the Residents at Ecumen Lakeview Commons
The Minnesota Boychoir performed an early Mother's Day concert at Ecumen Lakeview Commons on Saturday, May 3, to a packed house of residents, guests and caregivers.
The Cantar and Cantando ensembles performed "Why We Sing," including "Pie Jesu" and "Wynken, Blynken and Nod," and closing with "I'll Make the Difference." The choir members handed out gerbera daisies to the women in the audience following their performance.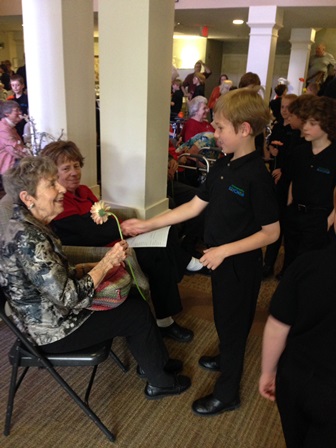 "My grandma left with two daisies and the biggest smile on her face!" said Amy Williams, who is Ecumen's major gifts officer. "The residents had a fantastic time. There was plenty of toe-tapping, clapping, and even some shouts of encouragement from the audience. The choirs were really fantastic and the flowers they gave at the end of the program were lovely and meaningful."
Jen Rasmussen, the activity director at Ecumen Lakeview Commons, said residents are still talking about how great the boys could sing at such a young age and how cute they all are. "We had 70 boys in our lobby for almost three hours and every single one of them was a class act," Jen said. "They were so very polite, quiet and sweet to the residents."
The Boychoir "welcomes and embraces members of diverse faiths, races, and social and economic backgrounds." Boys ages 7 to 18 come from communities throughout the Twin Cities metropolitan area and perform in one of three ensemble groups – Cantar, Cantabile or Allegro – and are led by artistic director Mark S. Johnson.
"This is a good place to be for a lot of boys. Lots of kids search for a place to be – to belong. Here, boys with a common interest in singing can hang out, become friends and grow together, both as singers and as young men," said Johnson, who was quoted in the Boychoir's program.
The choir, founded in 1962, is celebrating its 50th anniversary season of providing choral music training, education and performance opportunities. Upcoming free concerts will be held in St. Paul on Saturday, May 31, and Minneapolis on Sunday, June 8. Visit www.boychoir.org for more information.
Ecumen Lakeview Commons in Maplewood, Minn., offers enriching activities and performances for residents and their families every week. To learn more about upcoming events or how to volunteer, please call 651-770-1111
or visit www.lakeviewcommons.org.