Minneapolis Mayor Betsy Hodges called Ecumen's Abiitan Mill City "a gift to the City" that gives seniors the option to live in the heart of downtown with the assurances they need to age in place.
Speaking at the community's grand opening celebration April 27, 2017, Mayor Hodges said Abiitan Mill City is "the kind of great community that we all want to have and that we're all getting here in Downtown Minneapolis and in the Mill District. [Residents] know their needs will be met in the future, and they don't have to carry the worry that so many people do. That is a gift to the City… And that is a gift to the people who are going to live here."
Abiitan Mill City is the only senior living building in the downtown Minneapolis core and is designed specifically for the current generation of retiring Baby Boomers who want active lifestyles in walkable, urban communities, along with access to home-based care services if they need them.
Minneapolis Council Member Jacob Frey, a strong supporter of the development, said Abiitan Mill City and its neighbor and development partner, Mill City Quarter, have been important allies working with the city to convert an "ugly surface parking lot" into a vibrant community. "We're combining environmental sustainability. We're combining housing," Frey said. "And we're combining a thousand different kinds of people from a million different backgrounds – all on one block. That is a serious vision!" Minneapolis Council Member Lisa Goodman, a key supporter of the development, also attended the ceremony.
Dan Collison, Director of Downtown Partnerships at the Minneapolis Downtown Council, told the assembled residents, staff, development partners and city officials that Abiitan Mill City "reaches for something special" and helps realize the vision that the city "must be a place for all kinds of people in all stages of life."
He said putting up buildings means nothing unless there is community. "We celebrate that what you have created here is community," he said. "This project rises to claim a very special place in the emerging downtown residential narrative."
Julie Murray, Ecumen's Chief Business Development Officer, described how the Abiitan concept emerged from focus groups with residents of the Mill City neighborhood more than five years ago. She said the research showed that residents wanted all the comforts of a senior living community well integrated into an urban neighborhood with culture, nature and entertainment. Also, they wanted access to on site health care services as they age, including memory care, which Abiitan provides.
Abiitan actively strives to bring the outside community inside, Murray said. While most senior communities are located in the suburbs away from commercial activity at Abiitan, residents can step out their doors and instantly interact in the community, access public transportation and the skyway, or walk the neighborhood or river trail just a block away. Plus community is invited to come inside Abiitan by way of Smith & Porter Restaurant, the Porter Café and G-Werk Fitness – all open to the public.
For more information about Abiitan Mill City, go to www.abiitan.org or call 877-749-5933.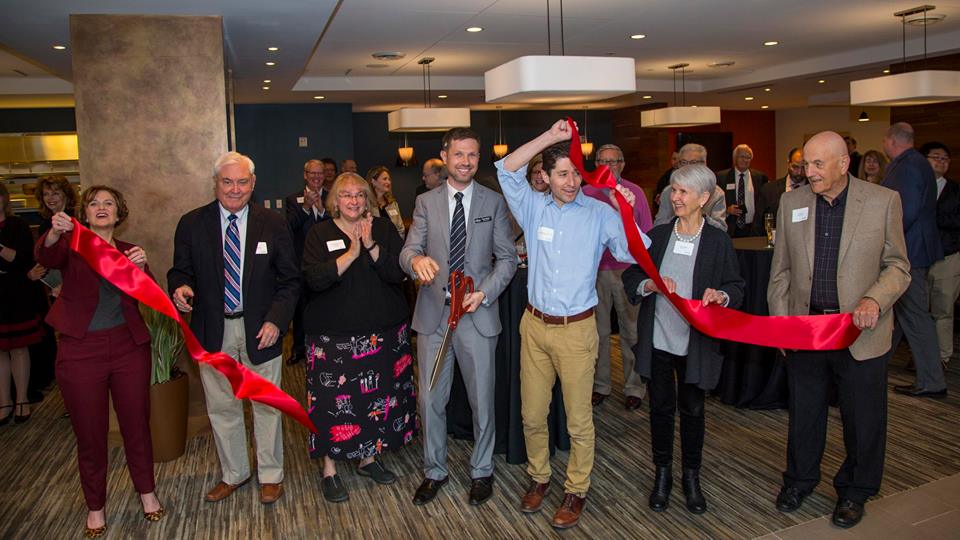 At the Abiitan ribbon cutting (left to right) Minneapolis Mayor Betsy Hodges, Abittan Resident and Ecumen Board Member Dick Olson, Minneapolis Council Member Lisa Goodman, Abiitan Executive Director Erwan Moison, Minneapolis Council Member Jacob Frey, Abiitan Residents Carole and Doug Baker Sr.