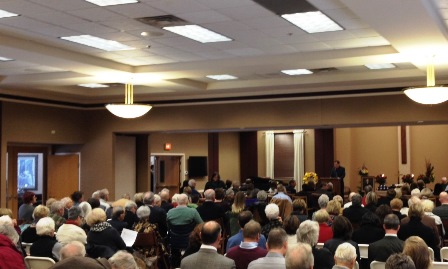 On February 5, 2016, hundreds of people crowded into the chapel at Ecumen Pathstone Living to remember Dr. Jack Heimark. There is so much to remember.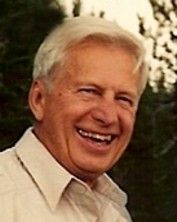 Consider his resume: Graduate of the U.S. Naval Academy in Annapolis; World War Two Veteran of the South Pacific with 9 Battle Stars; medical school at the University of Minnesota; residencies at Stanford University and the Mayo Clinic; physician at the Mankato Clinic for almost 50 years; Medical Director of Ecumen Pathstone Living for more than 35 years; mountain climber.
Mostly, he will be remembered as a kind and generous man who never met a stranger.
Dr. Jack always had his "doctor's bag" with him and never hesitated to care for someone who needed his help. He worked well into his 80s, leaving lasting impressions wherever he went.
When John Jacob Heimark died January 14, 2016, at the age of 94, he left a legacy of caring and community service that radiated throughout Mankato.
At his memorial service, his grandson Eric summed up his life this way: "My grandfather walked gently but left giant footprints behind him."
Dr. Jack had a kind, gentle way of putting people at ease. He was an internal medicine physician known as a brilliant diagnostician. He also was an avid outdoorsman, who loved to hunt, fish, hike, travel and climb mountains.
At the time of his death, Dr. Heimark was a resident of Ecumen Pathstone Living, a senior living community that he and his wife Ann generously supported with their time and with substantial donations over the years. They helped build new buildings and improve the quality of care. Dr. Jack worked as the Medical Director and served on the Community Council and Ann, who survives her husband, was a long-time member of the Friends of Pathstone volunteer auxiliary.
Throughout Pathstone, there is evidence of Jack and Ann's philanthropy — the Heimark Education Room, the Heimark Board Room, and the impressive "Hands of God" sculpture they commissioned for the garden.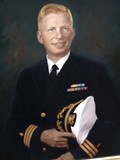 In a tribute to Dr. Heimark, a friend said Jack's life reminded him of something columnist Erma Bombeck once wrote: "When I stand before God at the end of my life, I could hope that I would not have a single bit of talent left, and could say, I used everything you gave me." Dr. Jack gave everything he had, and that's how he will be remembered.