The Mankato Clinic Foundation Awards Grant to Ecumen Pathstone Living For NuStep Exercise Machine
Thanks to the Mankato Clinic Foundation, Ecumen Pathstone Living received a $4,475 grant to purchase a NuStep exercise machine, a cross-trainer designed specifically for older adults.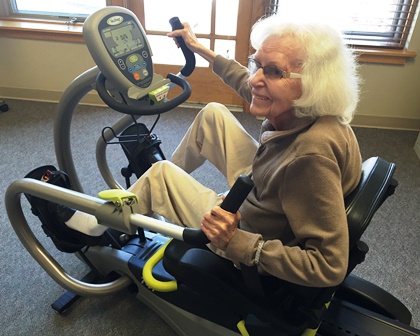 "We're so grateful to the Mankato Clinic Foundation for this gift," said Becky Kunst, Community Relations Coordinator at Ecumen Pathstone Living. "We just installed the NuStep and residents are lining up to use it. It offers a great workout that is safe, effective and fun."
The NuStep provides strong back support while decreasing stress on joints and muscles. As a cross trainer, it provides a strong cardiovascular workout while also strengthening arms and legs. It also has a swivel seat and grab bar to make getting on and off easy.
The Mankato Clinic Foundation provides resources to organizations and endeavors that effectively promote and improve community health and wellness. Since the primary focus of the Foundation is to support the health and well-being of the community, projects and programs supported include education and scholarships initiatives focused on health care, health education and wellness.
The physicians at the Mankato Clinic provide the majority of the Foundation funding as a means to give back to the community by providing support to organizations which strive to improve health and wellness. Grants are awarded on a quarterly basis and are considered only through the application process. Applications can be obtained at mankatoclinic.com.