Living Ecumen's Values: The Zvago Co-Op Team Brings Innovation To Life
For the Ecumen team managing the Zvago cooperative initiative, the future of senior living is now.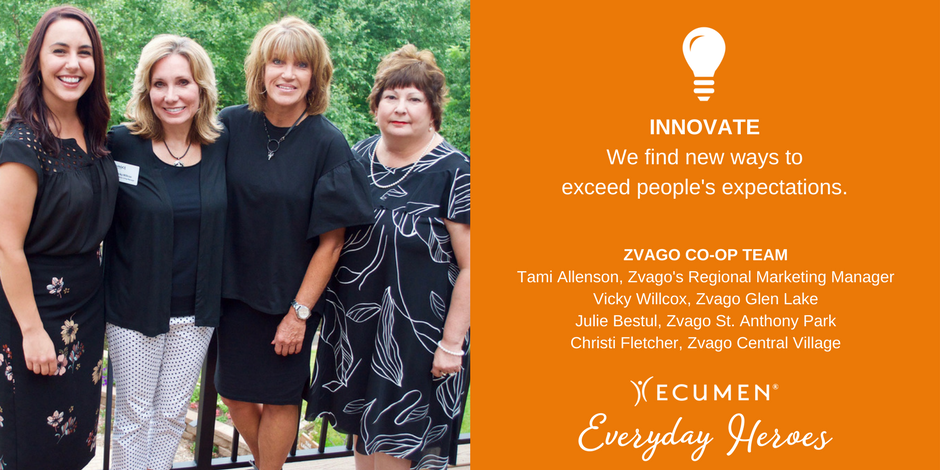 Throughout August, Ecumen is celebrating its 10th Best Place to Work honor from the Minneapolis-St. Paul Business Journal by recognizing employees who live our values every day.
For the Ecumen team managing the Zvago cooperative initiative, the future of senior living is now.
Zvago was designed for a new breed of seniors who are redefining traditional notions of retirement. The Zvago staff's mission is to meet them where they are – and facilitate their journey.
For working on the cusp of change every day and living the Ecumen value of Innovation, we salute the Zvago team: Tami Allenson, Regional Marketing Manager; Julie Bestul, Sales and Customization Manager; Christi Fletcher, Sales Manager at Zvago Central Village; and Vicki Wilcox, Co-op Living Manager at Zvago Glen Lake.
"Ecumen saw the Baby Boomers coming," says Tami. "We're fortunate to be right where big changes are happening. We love working with this incredibly vibrant, active, interesting group of people who are teaching us what the future of senior living looks like."
Zvago is derived from the Italian word for "fun, leisure and recreation," and the Zvago concept is all about offering choice and flexibility and giving co-op member/owners a strong say in shaping their community and how it operates.
Zvago co-ops are purposely located in age-friendly neighborhoods where residents can walk to nearby stores and restaurants. Typical residents are empty nesters who have downsized from single-family homes but want to enjoy their retirement years in their communities.
"Zvago has definitely hit the mark with this market," Tami says. "It's so great to be part of successful innovation in action. The people we are serving are trendsetters who energize us with their enthusiasm for the next phase of their lives. They challenge us to forget about the traditional retirement narrative and think about the all the exciting possibilities."
Zvago Glen Lake in Minnetonka opened in April and has only one unit remaining for sale. Zvago St. Anthony in St. Anthony Park in St. Paul will break ground this fall and already is almost sold out. Zvago Central Village in Apple Valley, also due to break ground this year, is actively being marketed. And a new Zvago development in Duluth is in the planning stage.
Congratulations to the Zvago team for their commitment to innovation and excellent customer service!
–Ecumen Communications Team
Ecumen's core values guide our company and our employees:
SERVE: We put people at the heart of what we do.
INNOVATE: We find new ways to exceed people's expectations.
EMPOWER: We encourage people to dream and take action.
HONOR: We treat people with dignity and respect.