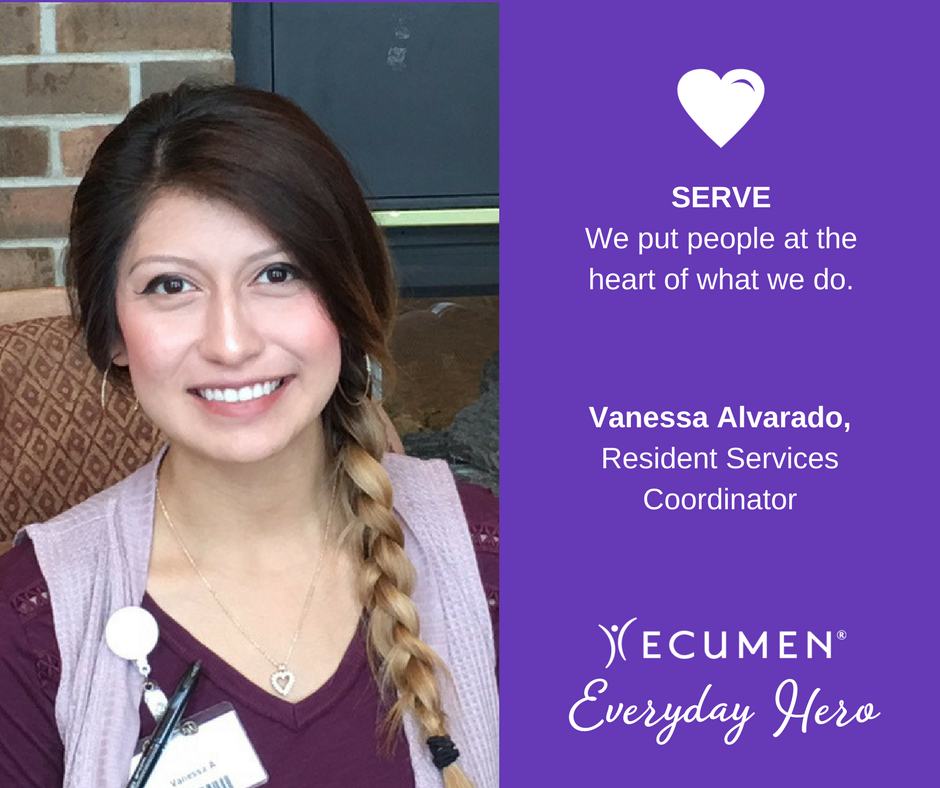 Throughout August, Ecumen is celebrating its 10th Best Place to Work honor from the Minneapolis-St. Paul Business Journal by recognizing employees who live our values every day.
Service with a smile. A beaming smile that will warm your heart! That is what we see every day from Vanessa Blanco Alvarado, our Resident Services Coordinator.
This rock star at Ecumen Meadows in Worthington cares deeply for her residents and co-workers. Vanessa has a challenging job but never shows it. She works gracefully and happily, and her always positive approach is contagious. She sparkles and glows.
In Worthington, we have a diverse workforce, and Vanessa has been a leader in organizing events to expose residents and staff to other cultures. For example, she hosts a Quinceañera festival at Ecumen Meadows, which is a Latina celebration of a girl's fifteenth birthday. She has fully embraced Ecumen's Diversity and Inclusion Initiative and is an outstanding ambassador in the Worthington community.
Vanessa is supportive of everyone. Her beautiful smile has no boundaries. And you can't help but smile when she walks in the room!
Thank you, Vanessa, for honoring, empowering and serving with your wide open heart! Thank you for smiling on us. Today we honor you!
–Nancy Garvin, Executive Director, Ecumen Meadows, Worthington
Ecumen's core values guide our company and our employees:
SERVE: We put people at the heart of what we do.
INNOVATE: We find new ways to exceed people's expectations.
EMPOWER: We encourage people to dream and take action.
HONOR: We treat people with dignity and respect.