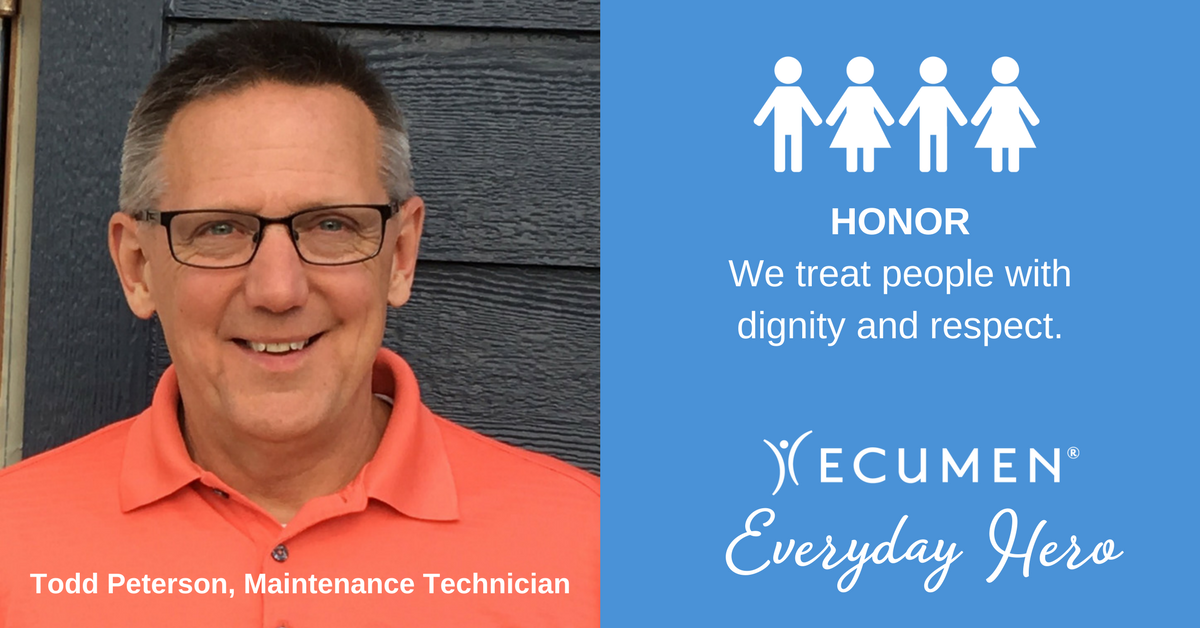 Throughout August, Ecumen is celebrating its 10th Best Place to Work honor from the Minneapolis-St. Paul Business Journal by recognizing employees who live our values every day.
Parmly Lakeview Apartments has taken 1st place in HUD Customer Satisfaction Surveys twice – in a large part because of Todd Peterson's service, dedication, and commitment to our residents.
Todd handles maintenance with the highest standards of service. In the process, he honors our residents with the highest level of dignity and respect. I could write at length about Todd, but our residents say it all in countless glowing comments about him in recent customer services surveys. Here is a sampling of some of their comments:
I appreciate Todd, the maintenance man. He puts his heart and soul into his work. You ask him to look into something and he gets to it.
Todd, the maintenance man, is one in a million.
I think Todd, the repair man, goes above and beyond. He is very polite. He takes care of any problems immediately. Everyone in the building feels the same about Todd.
The maintenance is great, and the maintenance man is perfect.
Todd is so good with people, and he's always there for you.
The maintenance man is out of this world!
Todd is a wonderful soul.
Thank you, Todd, for your deep commitment honoring and serving our residents. Ecumen honors you!
–Christine Zoya, Housing Specialist, Ecumen Parmly Lakeview Apartments
Ecumen's core values guide our company and our employees:
SERVE: We put people at the heart of what we do.
INNOVATE: We find new ways to exceed people's expectations.
EMPOWER: We encourage people to dream and take action.
HONOR: We treat people with dignity and respect.