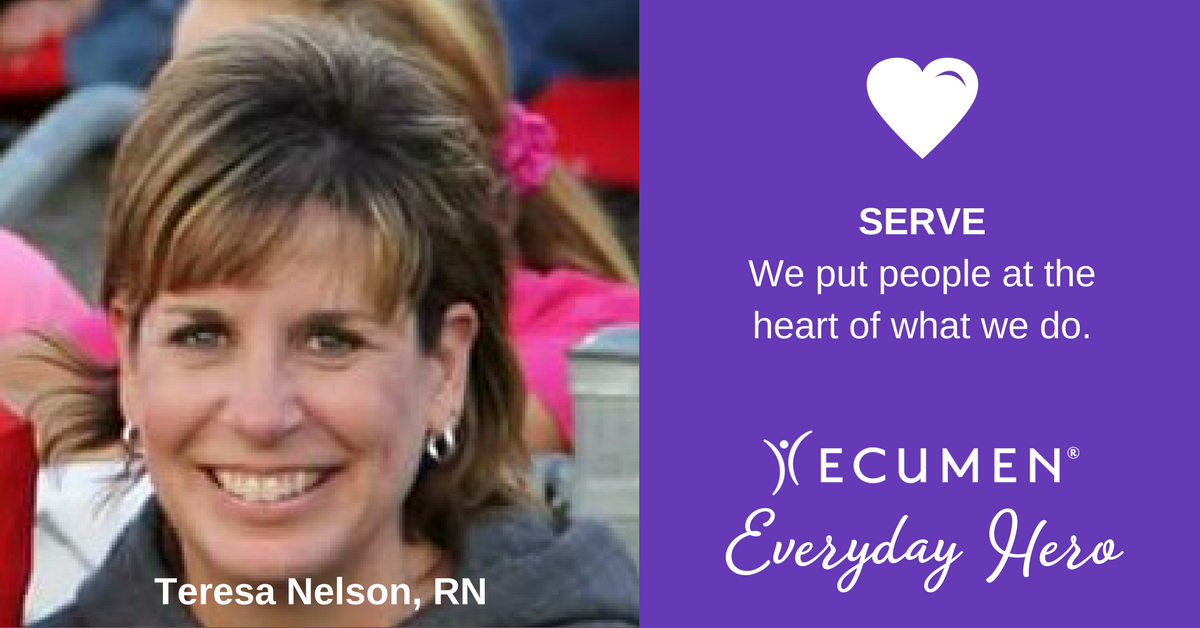 Throughout August, Ecumen is celebrating its 10th Best Place to Work honor from the Minneapolis-St. Paul Business Journal by recognizing employees who live our values every day.
Service to others defines Teresa Nelson. She is always out on the floor at St. Mark's Living, doing something to help out.
Even though she is our Director of Nursing, there is no job too big or small for her. As I write this, she is on the floor helping strip beds because we're getting a new laundry service today. If Dietary is short on staff, you will find her serving food. When it's crunch time with staff scheduling, she's glad to pitch it. She often comes in on her own time to help – to make sure our residents are properly served. You will never hear her say "that's not my job."
What makes Teresa's commitment even more impressive is that she is dealing with a major life event herself. She has been fighting breast cancer this past year – the kind of thing that would make most of us want to stay home in bed – yet she has missed very little work.
She is so strong. I am really amazed at how Teresa can keep the needs of others in the foreground at a time like this. She is one of the most compassionate people I know. Our residents know that too, and they often seek her out for her caring advice.
Thank you, Teresa, for living Ecumen's values every day. We honor you for so compassionately serving others.
–Cheryl Corey, Human Resources Director, St. Mark's Living
Ecumen's core values guide our company and our employees:
SERVE: We put people at the heart of what we do.
INNOVATE: We find new ways to exceed people's expectations.
EMPOWER: We encourage people to dream and take action.
HONOR: We treat people with dignity and respect.