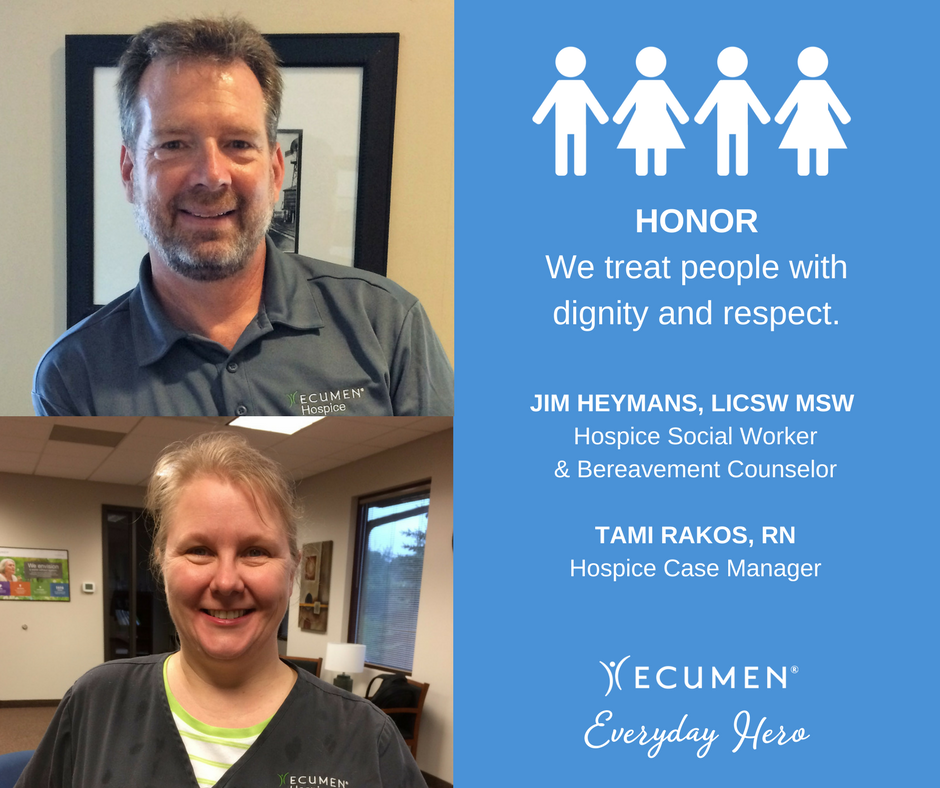 Throughout August, Ecumen is celebrating its 10th Best Place to Work honor from the Minneapolis-St. Paul Business Journal by recognizing employees who live our values every day.
Tami Rakos and Jim Heymans of Ecumen Hospice approached the field at different times in life, but they agree that the profession is both demanding and extremely rewarding. And it's all about honor.
When Jim was a child, his family suffered a devastating loss. After that, he was determined to help people deal with death and grief.
"Hospice workers help people celebrate their lives, find comfort and discover peace," he said. "Like the ministry, this profession calls on your gifts of compassion, empathy, emotional intelligence and honor."
Tami had been a nurse working with a broad array of clients – from premies to mothers to the elderly. Then she joined Ecumen.
"Hospice felt so natural to me. It's such a privilege to help people during this vulnerable stage of life, almost like delivering a baby," Tami said. "I've been honored to serve people at the two ends of life's spectrum."
Tami and Jim both described the Ecumen team as very supportive and collaborative, leaning on each other with great deal of trust and respect.
What's the best part of the job? The relationships they have with their clients.
"The connections you make, the moments you share and the smiles you get will melt your heart," said Tami.
"We hear a lot of gratitude." Jim said. "Plus, hospice workers experience life in a profound way. Because we are exposed to such a great deal of loss, we appreciate so many things – sometimes the smallest things seem deeply beautiful."
Registered Nurse Tami Rakos is an Ecumen Hospice Case Manager for the Twin Cities. Jim Heymans, LICSW and MSW, is an Ecumen Lead Social Worker and Bereavement Coordinator. Today, we honor them.
–Emily Porter, Ecumen Communications
Ecumen's core values guide our company and our employees:
SERVE: We put people at the heart of what we do.
INNOVATE: We find new ways to exceed people's expectations.
EMPOWER: We encourage people to dream and take action.
HONOR: We treat people with dignity and respect.