Living Ecumen's Values: Pastor Ron Gerl, Chaplain
Pastor Ron Gerl of Ecumen Parmly LifePointes is a living example of everything Ecumen aspires to be.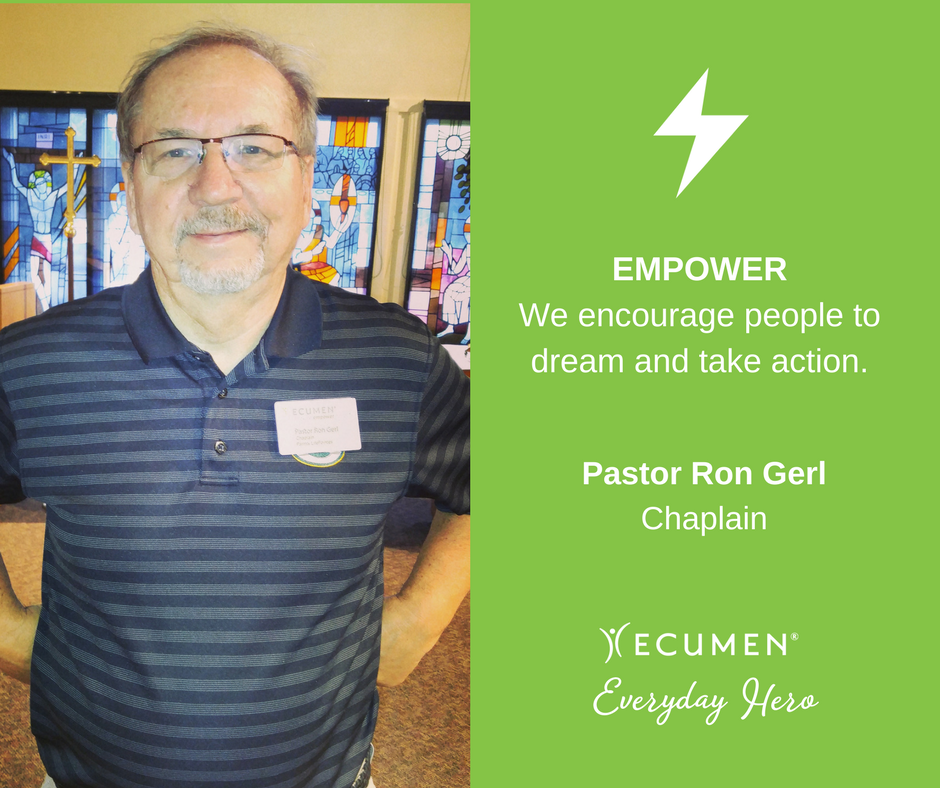 Throughout August, Ecumen is celebrating its 10th Best Place to Work honor from the Minneapolis-St. Paul Business Journal by recognizing employees who live our values every day.
Pastor Ron Gerl of Ecumen Parmly LifePointes is a living example of everything Ecumen aspires to be. He exemplifies all Ecumen values – innovate, empower, honor and serve.
He innovates through creative programs like Summer Bible School, Blackjack with Pastor Ron and a Pastoral Care Class to provide training for volunteers, community members and staff who want to offer spiritual care for residents.
He empowers residents by having them help with services or lead groups. He freely gives his wisdom and encouragement in a professional and caring way. Over the years he has directly empowered and encouraged me to grow, learn and become more than I thought I could be.
He honors residents in each and every program he conducts. The Service of Remembrance gives families a chance to grieve and hear stories of loved ones. He helped establish our Honor Guard to honor veteran's when they pass away. He upholds each resident's or staff's individual faith base and encourages everyone to worship in their own way.
He serves the entire community. He offers support to local pastors by organizing luncheons or continuing education for pastors and lay persons in the community. At a recent session he offered pastors advice on how to talk to people in a congregation about Alzheimer's and dementia. And if a staff member or resident is going through a difficult time, he will be there to offer support.
Thank you, Pastor Ron, for living our values. Ecumen honors you!
–Christy Johnson, Recreation Therapy Director, Ecumen Parmly LifePointes
Ecumen's core values guide our company and our employees:
SERVE: We put people at the heart of what we do.
INNOVATE: We find new ways to exceed people's expectations.
EMPOWER: We encourage people to dream and take action.
HONOR: We treat people with dignity and respect.