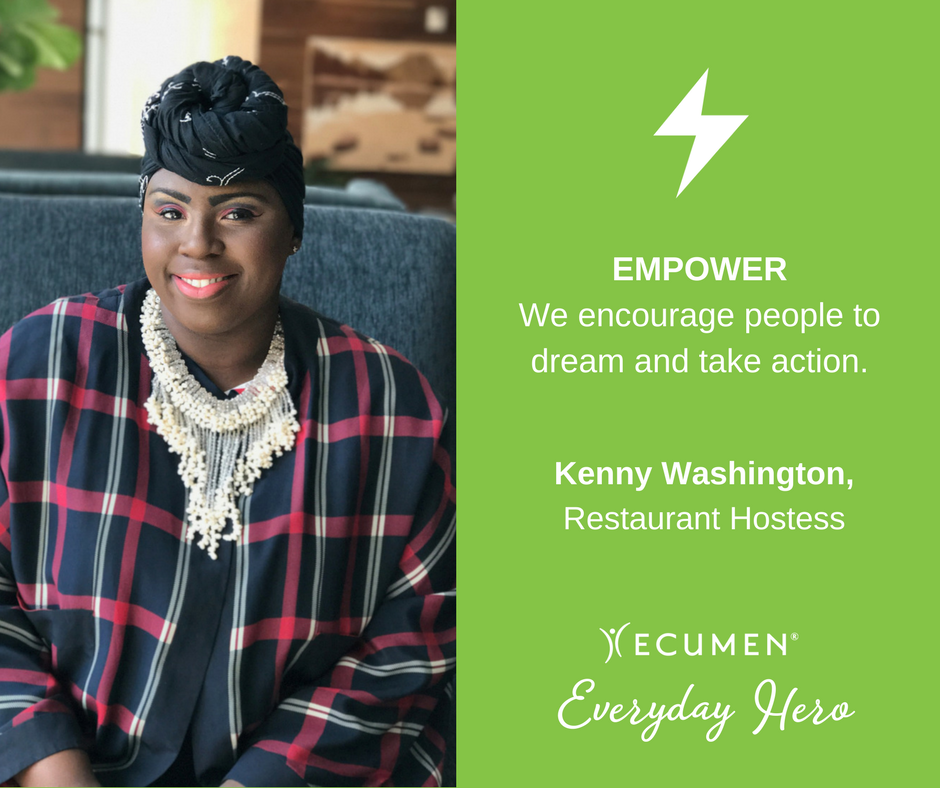 Throughout August, Ecumen is celebrating its 10th Best Place to Work honor from the Minneapolis-St. Paul Business Journal by recognizing employees who live our values every day.
Kenosha (Kenny) Washington personifies customer service. Her primary job is hostess at Smith and Porter Restaurant & Bar at Abiitan Mill City. But she is ever-versatile, filling in wherever she's needed with competence and a ready smile. Kenny also works as the on-call front desk concierge and sometimes works as a server in the restaurant. Whatever she is doing, she does it with complete devotion to customer satisfaction.
She takes on extra shifts in an emergency, and she approaches everyone–employees, restaurant patrons, vendors, residents, and potential residents, with a high-end professionalism that comes naturally to her.
Kenny is brimming with style and personality. She has a presence that puts customers at ease and gives them confidence. Always poised and polite, she goes that extra step that makes customers feel special. The jobs Kenny does sometimes can be stressful and demanding, yet she is always calm and collected as she seamlessly solves problems.
Kenny's unique style and fashion sense sparks fun conversations with both residents and restaurant patrons. She led a recent talk for the residents about her love of vintage designer fashions, her vintage fashion store, and her work as a stylist for others. She even brought friends who modeled the clothing for them.
When you meet Kenny, you will remember her. And she will remember you.
Thank you, Kenny, for so adeptly serving our customers every day. Today we honor you!
–Helen Hae Eun Park, Business Office Manager, Abiitan Mill City
Ecumen's core values guide our company and our employees:
SERVE: We put people at the heart of what we do.
INNOVATE: We find new ways to exceed people's expectations.
EMPOWER: We encourage people to dream and take action.
HONOR: We treat people with dignity and respect.