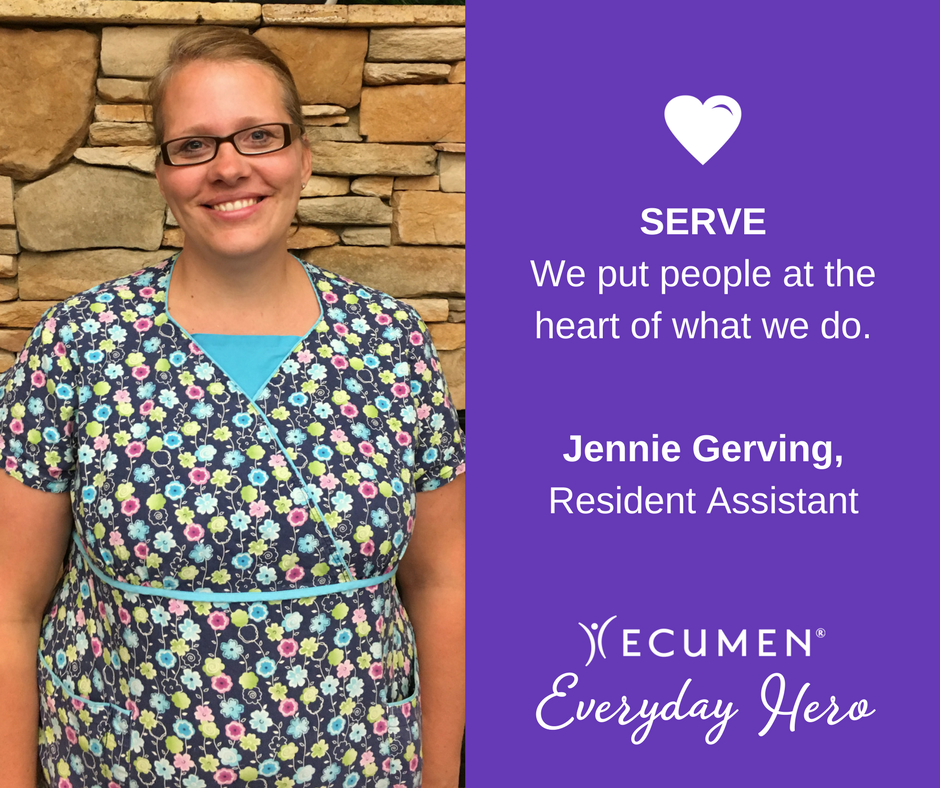 Throughout August, Ecumen is celebrating its 10th Best Place to Work honor from the Minneapolis-St. Paul Business Journal by recognizing employees who live our values every day.
It can be the busiest day ever, and Jennie Gerving is unfazed. She will have a smile on her face and a positive, can-do attitude. She's ready to take charge and help at any moment.
Jennie, who works in Home Care at Ecumen Detroit Lakes, is a shining example of someone who lives all of Ecumen's values.
She serves others selflessly. Jennie is generous with her time and is willing to pick up additional shifts in all capacities. She has often re-arranged her personal schedule to help out a co-worker in need or an understaffed area.
She honors residents, families and co-workers by sharing her smile, enthusiasm and positive attitude with everyone she meets. She radiates her compassion and love for her job.
She innovates by always looking for ways to do better and be better. As part of our "Recruitment and Retention" team, she helps develop ways to enhance our employees' experience.
She empowers both residents and staff with her ability to bring out the best in others. She is resilient and flexible and truly understands that every day is a new day for many residents. She meets them where they are. Plus, she generously passes her skill and insight on to other employees as one of our Peer Mentors. She takes some of our new employees under her wing and helps guide them through their orientation process and develops great working relationships that often ends up in long-lasting friendships.
Jennie truly has compassion for what she does, and it shows on the job and in her role as a mother. When not at work, she is always on the run – serving others.
Thank you for living our values every day, Jennie. Ecumen honors you!
–Katie Lundmark, Executive Director, Ecumen Detroit Lakes
Ecumen's core values guide our company and our employees:
SERVE: We put people at the heart of what we do.
INNOVATE: We find new ways to exceed people's expectations.
EMPOWER: We encourage people to dream and take action.
HONOR: We treat people with dignity and respect.