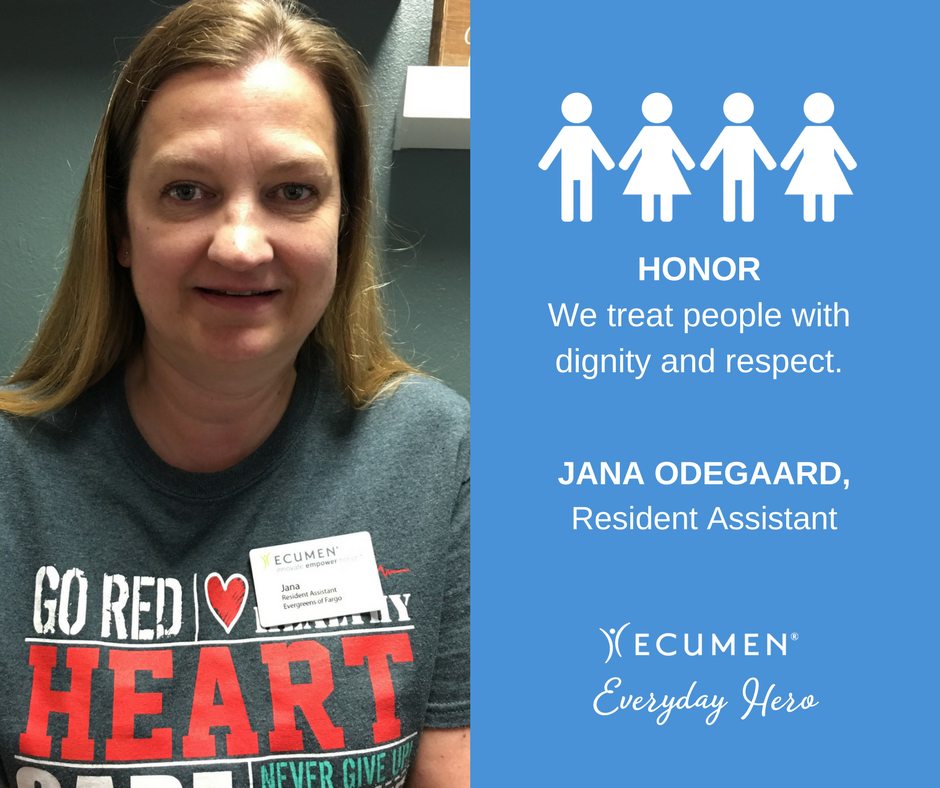 Throughout August, Ecumen is celebrating its 10th Best Place to Work honor from the Minneapolis-St. Paul Business Journal by recognizing employees who live our values every day.
We always know when Jana Odegaard comes into the building at Ecumen Evergreens of Fargo. "It's Jana!" the residents exclaim.
Jana absolutely loves her residents, and the feeling is mutual. I enjoy hearing residents talking about how much they like it when Jana works. It's so uplifting to see how excited they are when she comes on shift.
When caring for our residents, she expects nothing but the best from herself and all of her co-workers. She is always reliable, and they respect and appreciate that. She has earned their trust.
Jana takes the time to get to know all of the residents and has a deep understanding of their lives. She uses that knowledge to provide personalized care to each individual.
Jana lives Ecumen's values each day, honoring, serving and empowering our residents to the very best of her ability. She is an inspiration to us all.
Thank you, Jana, for the care you give, the hearts you lift, and the joy you bring. Ecumen honors you!
–Nicole Pesta, Executive Director, Ecumen Evergreens of Fargo
Ecumen's core values guide our company and our employees:
SERVE: We put people at the heart of what we do.
INNOVATE: We find new ways to exceed people's expectations.
EMPOWER: We encourage people to dream and take action.
HONOR: We treat people with dignity and respect.