Living Ecumen's Values: Danielle Olson, Executive Director
Under Danielle Olson's leadership, Sunnyside Care Center has become a top performer.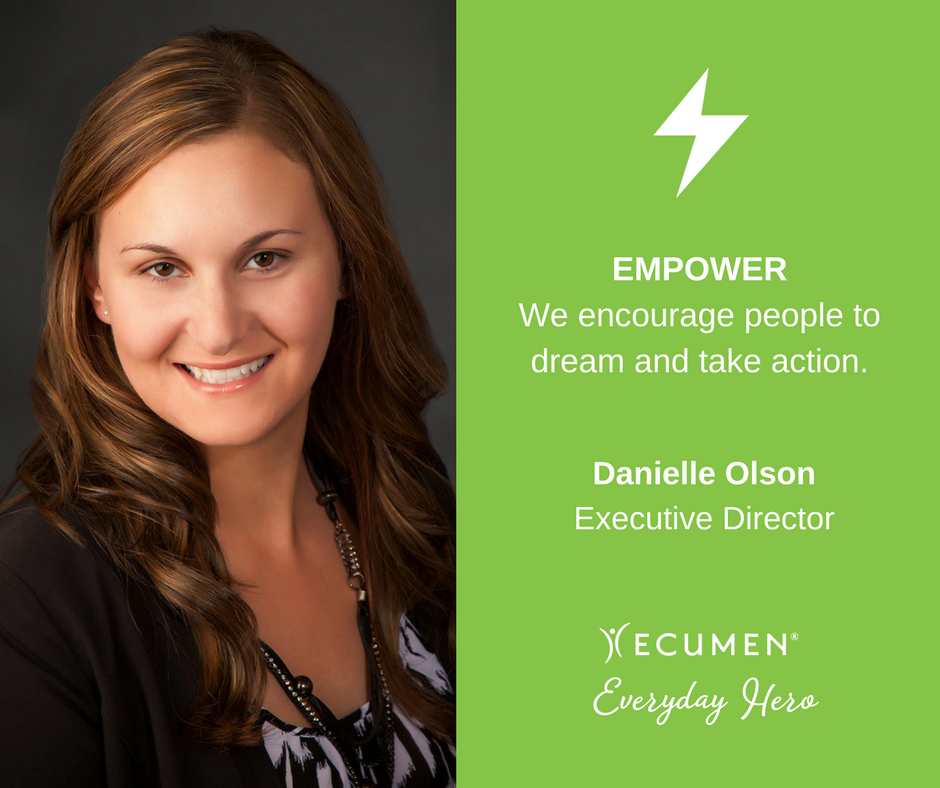 Throughout August, Ecumen is celebrating its 10th Best Place to Work honor from the Minneapolis-St. Paul Business Journal by recognizing employees who live our values every day.
Under Danielle Olson's leadership, Sunnyside Care Center has become a top performer. It's now a CMS 5-star care center that is ranked number one in Pinnacle Customer Satisfaction Surveys and number two in Employee Satisfaction among Ecumen sites in 2016 and also had the lowest percentage of accounts receivables over 90 days old. Employee retention and involvement is high, and quality of care is exceptional.
One of the main reasons for this high level of achievement is that Danielle is always looking for ways to make things better. She's willing to try new things and empowers her staff to do the same. Recently, she set out to improve the appearance of her site on a limited budget by doing the interior decorating herself. Currently, she's teaming up with Pelican Valley Senior Living on a LeadingAge MN Workforce Solutions Grant to improve retention with a new program to help employees balance their work and personal lives.
In addition to leading and serving her site, Danielle is active on Ecumen committees, serves on LeadingAge MN committees, and is a Velocity graduate. She is always willing to share her time and talents. In addition to being highly respected in our profession, she has the full confidence of her Board of Directors, who praise her leadership.
Danielle pays a great deal of attention to employee satisfaction with regular team-building and appreciation events that honor milestones and recognize accomplishments. She honors her residents and employees, empowers them, serves them and always looks for innovative ways to make their lives better. She is a gem who lives Ecumen's values every day!
Thank you, Danielle, for all you do, and for doing it the Ecumen way. Today we honor you!
–Janet Green, Regional Executive Director
Ecumen's core values guide our company and our employees:
SERVE: We put people at the heart of what we do.
INNOVATE: We find new ways to exceed people's expectations.
EMPOWER: We encourage people to dream and take action.
HONOR: We treat people with dignity and respect.