Live 2 B Healthy: Custom-Made, Home-Delivered Fitness for Seniors
Greg Springman, certified personal trainer, is greeting everyone by name as he watches his class assemble in a circle, some in wheelchairs or using walkers. They seem eager to be here, except Joe.
"Let's go, Joe. Get over here," Greg coaxes.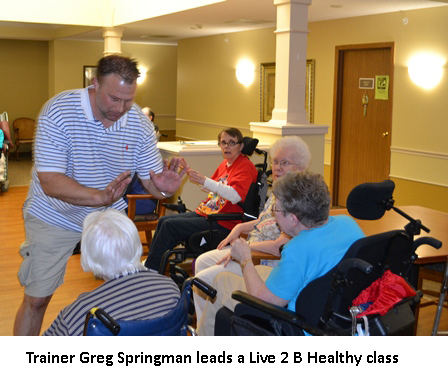 "I'm a farm boy," says Joe. "I don't have to do this kind of stuff."
Reluctantly, Joe joins the circle of residents at Ecumen Prairie Lodge in Brooklyn Center, and Greg starts the exercise session with lively banter.
"Did you get all dolled up for me," Greg asks one of the participants. "That's a nice perm!"
"I love you," she replies.
"Who hired you?" Joe grumps.
Ecumen hired the company Greg works for — Live 2 B Healthy, which specializes in fitness for seniors. Certified personal trainers come to senior communities and conduct customized fitness sessions based on the widely varying needs of the clients.
At today's session most of the 17 people are elderly and frail. All have mobility issues to some degree. And Greg has the instincts for understanding their capabilities and limits. Tomorrow he may be with a group of highly active seniors at another community, and they will get an entirely different workout.
"OK," Greg says as he rolls his arms, "Let's start with arm circles… Now, sit tall and reach up and down."
A participant whines: "This arm hurts!"
"No problem," says Greg. "Just use your other one."
Smiles of determination are forming around the room as the group finds its rhythm. Carolyn looks over at her neighbor and laughs: "I'm getting my exercise and she's getting dizzy watching me."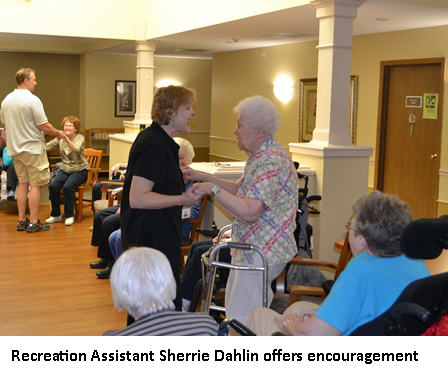 Everyone, including Greg, seems to be having fun, and what's happening in this circle is inspirational. Otherwise sedentary people are getting exercise three days a week that challenges them in ways they did not think possible. Roger does 10 reps of standing up and sitting down in his wheelchair while the group cheers. It takes all the strength he has, but he pushes through with a beaming smile, clearly pleased with himself.
Greg heaps praise and makes sure everyone understands how hard Roger is working.
Live 2 B Healthy is all about improving strength, flexibility and balance — and therefore quality of life. Participants in the class will be closely monitored to measure their progress over time. Katie Keller, the Activity Director at Ecumen Prairie Lodge, says she's already noticed improvements in mobility since the class began in May.
She cites the example of a resident who found standing difficult before the sessions started but is now standing on her own and walking better. And another resident who broke her hip and had to be lifted out of bed, now stands up on her own power.
"The change is amazing," Katie says. In September, the trainers will officially measure progress from a baseline taken in May. Katie says she's confident the results will be impressive.
Live 2 B Healthy Senior Fitness, headquartered in Minnetonka, was started in 2008 by Cory Czepa, a personal trainer who saw firsthand the need for improved senior fitness. When he was in grade school he began volunteering in the nursing home where his grandparents were living and always enjoyed working with seniors.
After getting a college degree in physical education, he began working as a trainer in a large health club and noticed that few seniors came, and those who did often seemed uncomfortable in that setting. One night, lying in bed, he had his breakthrough idea: why not take fitness programs to seniors where they live.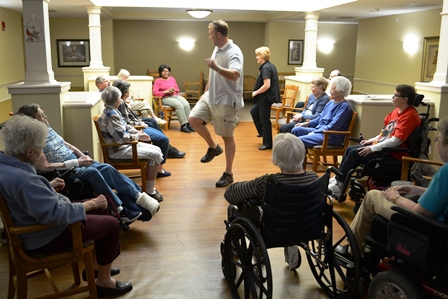 Czepa's unique marketing proposition is that he hires highly trained certified personal trainers who carefully customize fitness programs — often on the spot — based on client needs. And as the clients get stronger, the trainers adapt the programs. "There is no one-size-fits-all program," he says, "and there's plenty of one-on-one attention."
Czepa says research shows that resistance training yields the best results, followed by cardio and balance and toning. Two weeks into a class, the trainers take baseline measurements of strength, flexibility and balance. Every four months, they measure again, using testing protocols that allow assessments regardless of a person's limitations. Almost always, there is improvement.
In fact, there are hundreds of testimonials, Czepa says. Among the benefits people cite: enhanced flexibility and balance, better circulation, lower heart disease and blood pressure, improved sleep, improved cognitive skills, reduced medications, renewed energy and endurance, decreased joint and back pain, more regular bowel functions, declining depression and anxiety and improved day-to-day well-being.
Here's a typical testimonial from a resident at Ecumen-managed The Harbor at Peace Village: "Since I've been working out with Live 2 B Healthy, my doctor has reduced my dosage on one medication, and taken me off of another. I have less pain, more energy and am physically stronger. I feel much better about myself."
Live2BHealthy is now an approved program by Silver Sneakers so their members can now go to Ecumen communities offering Live 2 B Healthy programs and participate. Live 2 B Healthy is currently providing exercise programs in the following Ecumen sites:
‒ Ecumen Pathstone Living in Mankato
‒ Ecumen Lakeview Commons in Maplewood
‒ Ecumen Prairie Lodge in Brooklyn Center
‒ Ecumen-managed Pelican Valley Health Center in Pelican Rapids
‒ Ecumen-managed The Harbor at Peace Village in Norwood Young America
Ecumen Scenic Shores in Two Harbors plans to start classes in September.
Meanwhile, back at Ecumen Prairie Lodge, Greg is taking his class through their paces.
"March with those legs and move your arms…. Flap like a bird… Pretend you're boxers and punch, punch punch… Now twist and stick your tongue out at your neighbor! And now for your favorite one…clapping. This means we're done. Good job all around!"