The Life-and-Death Experience of Ecumen Board Member Kris Linner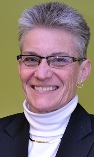 The Rev. Kris Linner, an Ecumen board member, has been working in hospice the past 15 years,helping people die with dignity. In the process, she has learned a lot about living.
"There is no way to explain that feeling of life leaving," says the Rev. Kris Linner, who has spent the last 15 years doing hospice work, ministering to hundreds of people as the spirit leaves the body.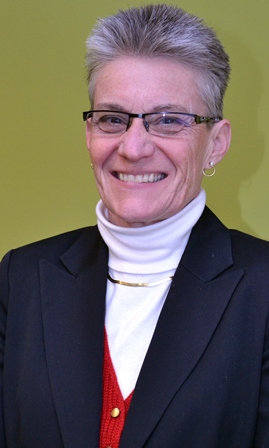 How can she do this? It's a probing question she gets all the time, and this is her mystical answer: When you are with someone who is dying, you are occupying holy, sacred ground, and it is an honor and a privilege to be there. This is deeply meaningful work with spiritual rewards that elude explanation. You feel things in your soul that are hard to put in words, and you see things that convince you death is not the end.
Kris, a Lutheran pastor by training who currently serves as an Ecumen board member, has devoted her career to helping people prepare for the inevitable with grace and dignity. Now, as the Director of Spiritual Care at St. Croix Hospice, she supervises 21 nondenominational hospice chaplains and spends much of her time doing community education and teaching hospice professionals about the spiritual side of death.
Her work with the dying, she says, is an on-going lesson that "life needs to be lived now."
"I think I have lived my life differently because I've worked in hospice," Kris says. "It has helped me boil life down to what's essential. For me that's faith, family and friends. It has helped me live in the moment and appreciate the people I have in my life. It's also taught me about saying the important things… saying what needs to be said. A day never goes by when I don't tell my family I love them because I'm fully aware any conversation could be my last."
Kris remembers the "aha" moment when she was comforting to a man on his death bed, and his wife was wailing over and over again: "All's we did was work. All's we did was work." And Kris vowed to herself: "I'm not going to say that."
Today, Kris is wearing a large button that says "Ask Me About Hospice" — because November is National Hospice and Palliative Care Month. So far, she has not been overwhelmed with questions but is not surprised or disheartened. From her years of experience, she knows it's not a subject most people are eager to discuss — until they absolutely must. But if you do ask her about hospice, what she can offer is "a roadmap for an unknown journey."
By definition, hospice is end-of-life care when the decision is made to stop all curative treatment. It's about keeping people as comfortable as possible — physically, spiritually and emotionally — as they make this final journey. Hospice is a choice. Some people opt to fight to the end with medical interventions. When there is a medical determination that a person has six months or less to live, hospice is an option, and it is covered by Medicare. A care team — physician, nurse, social worker and chaplain— develops a care plan for each patient that guides the hospice work. The medical professionals control the physical pain, and the spiritual professionals address the emotional pain.
But even those who choose hospice often struggle with the reality of what is happening. "It can be like a cold bucket of water," Kris says.
Denial is a common reaction, both from the patient and the family. "It's best not to bulldoze through the wall of denial," Kris says. "I try to stand behind the wall with them and help take it down brick by brick. Sometimes it never comes down."
In ministering to the dying, Kris says one of the main things she has learned is that "people need to find their own meaning." The bedside of a person in hospice is no place to make judgments or impose beliefs. Yet the words that often come most naturally to caregivers can be the absolute wrong things to say to a person who is dying.
Kris believes one of the worst things to say is: "It's God's will."
Other comments to avoid include:
"Be strong."
"Don't cry."
"I know just how you feel."
"You are so strong."
These are not comforting words because they usually invalidate the feelings people are having when they are at their most vulnerable.
Kris gives this advice: "Probably the most authentic thing you can say is, 'I wish I knew what to say.' There is nothing we can say to fix the kind of pain people are going through."
How you act is far more important than what you say. Her advice is to be completely present and attentive and to emotionally connect on the most basic human level. "Just let them know you are there," she says. As she teaches in her workshops: "Don't just do something, sit there."
Also, don't try to answer unanswerable questions, and "don't assume what you should do. ASK!"
Kris says the inspiration for her career came early in life. Growing up in Stillwater, she spent a lot of time with both of her grandmothers and was a caregiver to her grandmother who was blind. She had a natural affinity to working with the elderly and started her career as a social worker for Sherburne County, Minn., working in home care.
Theology had interested her ever since her high school days, and she decided to go to seminary "to feed my soul." She says, "People saw gifts in me that would fit that calling before I did."
After graduating from Luther Seminary, she served three years as a parish pastor and then moved into a job as a chaplain for a senior living community, which was the beginning of her hospice work.
Kris joined the Ecumen Board of Directors nine years ago and has been a strong advocate for the company's expansion of its home care and hospice operations.
Through these years of hospice work, Kris says she has had many moving experiences at the bedside of a dying person — truly life-changing spiritual moments.
She recounts the story of a 92- year-old-woman in a semi-coma who sat up in the bed just before she died, reach out with her arms, and said, "Mommy!"
What was remarkable about this is that the woman's mother died when she was two years old.
"What I have seen gives me a concrete belief in the next life," Kris says.