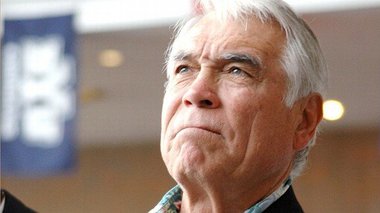 His e-mail was the last one in the slim overnight harvest from my computer's inbox. On the subject line was the greeting: " Hola Jim!" It was signed Jose Gump, which immediately identified the sender as Joe Kapp, a professional football player out of the 1960s and '70s.
Nobody, before or after pro football became the country's fixation and nutty religion has played it with quite the same rollicking invitation to pandemonium as Joe Kapp. Never mind that he needed 100 stitches to sew up his jaw after he was hit with a broken beer bottle in a tavern brawl in the Canadian League where the teams mingled after a game. He did play the next week,
Joe flew to Minneapolis from California a few weeks ago to visit friends and former teammates of the Minnesota Vikings. His note talked briefly about our kids and expressed regrets that we had missed connections. Then came his real regret: the dwindling number of teammates, and opponents who have survived those Neanderthal years of pro football when the players' pay barely got above a living wage and no football owners ever required their seat holders to pay a license for the privilege of buying their seats.
Joe and his teammates were the forerunners to what is today a splashy and incredibly popular, virtually unavoidable game that rolls up billions of dollars each weekend.
He resents none of that. Joe grew up in a housing project in San Francisco, the son of a Mexican-American mother and a German-American father. He quarterbacked the University of California team but found little love in the NFL draft and played for years in Canada before joining the Vikings in 1968.Two years later he took them to their first Super Bowl—with the sizeable help of folks named Alan Page, Carl Eller, Jim Marshall, Bill Brown and Mick Tingelhoff.
He was an anti-establishment guy who got himself blacklisted by pro football for challenging the basic ownership-player contract in a lawsuit that was unprecedented at the time. Baseball players by then had acquired economic muscle through the court system.
In the early '70s Joe brought the National Football League to court a year after he left the Vikings to play a final season in New England. With a skilled and persistent lawyer, he charged the NFL with restraint in trade and asked for a million dollars in compensation. The jury was impressed. It held in favor of the plaintiff—but granted him zero dollars in compensation.
. But nobody who played with or against Joe Kapp could possibly have forgotten him. Nor did the crowds. He played quarterback with all the finesse of a hot-headed lumberjack. When Joe scrambled out of the pocket, he didn't dodge linebackers; he either hurdled them or impaled them. There were times, often, when his forward passes could have traced their heritage to a horseshoe tournament.
And yet he could throw. In fact he tied a National Football League record by throwing seven touchdown passes in one game. The remarkable part of that, a writer said in the next day's newspaper, was that all seven of them were caught by his own team.
I can tell you this because I was the writer. Joe disdained calling my office the next day. We did have a racquet ball match scheduled four days later. Joe showed up with big smiles of brotherhood and forgiveness. We shook hands and played. I rush the front wall early to keep the ball in play. The reward was a shot in my backside that left marks for six months.
Joe Kapp stirred his teammates with his loud summons to the idea of mutual sacrifice and commitment. He would yell before games,"40 for 60," 40 being the player limit in those years. The commitment was for every play, every down. Basically they all bought in.
But when they honored him with the most valuable player award after the team banquet following their loss to Kansas City in the Super Bowl, Joe Kapp refused to accept it. It was 40 for 60, he said. The reality was that they played hard, they lost, but they played together. Somebody offered to console him. He turned that down, too. It was okay to dream, he said. But there weren't any replays, "and there ain't any Red Nose Reindeer, either.
A few years later he was out of football in the wake of his lawsuit. But this was not the guy to waste time with martyrdom. Joe Kapp, the rough-housing quarterback decided that there wasn't that much difference between pro football and professional acting. When you come to think of it, he may be right. Acting, he thought, blended nicely with his his wife's established reputation as an artist. So he got a few parts, including Hollywood. The acting petered out but the restless entrepreneur had prepared for a parallel career in wrestling, reawakened not long ago with he got into a live ad lib shoving match with an old rival on television. Eventually he got back into football as the coach of his alma mater team at the University of California.
You may remember that hilarious scene years ago on TV when Stanford had just scored with four seconds left to take the lead and kicked off. The only play left for Joe's California team was to keep lateraling the ball to each other running downfield, hoping to break through and score. Oblivious to the oncoming lateralers, the Stanford band on the other end thought the game was over and marched upfield, spread to the sidelines behind blaring tubas and trumpets. The crowd was convulsed. So were the Stanford defenders, caught between the onrushing California blockers and their own clarinet section. So the lateraling Golden Bears advanced while the Stanford band marched on to the inevitable collision; except that Joe's California lateralers found some daylight between the snare drums and the piccolos. Onrushing players dodged saxophones and bass drums. One lateral just skimmed past a startled trombone. Eventually the California runback man dodged the last snare drum and scored, the refs validated it, California won, and on the sidelines, our man, Coach Joe Kapp smiled.
About Jim Klobuchar:
In 45 years of daily journalism, Jim Klobuchar's coverage ranged from presidential campaigns to a trash collector's ball. He has written from the floor of a tent in the middle of Alaska, from helicopters, from the Alps and from the edge of a sand trap. He was invited to lunch by royalty and to a fist fight by the late Minnesota Viking football coach, Norm Van Brocklin. He wrote a popular column for the Minneapolis Star Tribune for 30 years and has authored 23 books. Retiring as a columnist in 1996, he contributes to Ecumen's "Changing Aging" blog, MinnPost.com and the Christian Science Monitor. He also leads trips around the world and an annual bike trip across Northern Minnesota. He's climbed the Matterhorn in the Alps 8 times and has ridden his bike around Lake Superior. He's also the proud father of two daughters, including Minnesota's senior U.S. Senator Amy Klobuchar.