This is National Influenza Vaccination Week, serving as a reminder that there is still time to get your flu shot and be protected for the holidays. It's especially important for seniors — adults 65 and older — to get vaccinated because they are more susceptible to the flu due to weaker immune systems.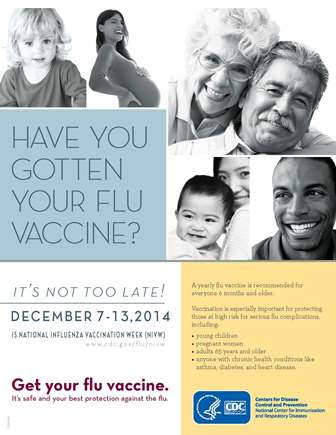 For seniors, the seasonal flu can be very serious, even deadly. Ninety percent of flu-related deaths and more than half of flu-related hospitalizations occur in people age 65 and older. The federal government has more information at flu.gov and a special section on seniors and the flu at http://www.flu.gov/at-risk/seniors/.
Seniors have two options for vaccination: the regular dose flu shot and the high-dose shot that prompts a stronger immune response. Talk to your health care provider to decide which one is right for you.
To get your shot, check with your health care provider or in Minnesota visit www.mdhflu.com and click on "Vaccine Clinic Look-Up" to find an influenza vaccination clinic near you.
The Centers for Disease Control and Prevention (CDC) established National Influenza Vaccination Week in 2005 to highlight the importance of continuing flu vaccination especially through the holiday season, when people tend to gather more. As long as the flu virus is circulating, the CDC says it's not too late to get vaccinated. Flu activity usually peaks between December and February in the United States, but can last as late as May.
Health officials recommend that everyone six months of age and older be vaccinated for the flu. Influenza vaccinations are recommended for all Minnesotans over age 6 months, but they are especially important for young children 6 months to 5 years old, seniors, people of any age with chronic medical conditions, pregnant women, people living with or caring for those at high risk for complications from influenza, and health care workers.
Vaccination costs will vary by site but are free to those with Medicare Part B. The clinics will ask to see Medicare and health insurance cards. Also, wearing short sleeves (under a sweater if it's cold) makes it easier to get vaccinated. For those who don't like shots, a nasal spray is also available at many clinics for healthy people ages 2 through 49.
Influenza is a contagious respiratory infection affecting the nose, throat and lungs that can lead to serious complications for some people. (It is not the "stomach flu.") The annual vaccination is the best way to reduce risk of serious illness.
Seniors who develop flu-like symptoms should contact their health care providers immediately. Since seniors are at high risk for flu-related complications, health care providers may prescribe antiviral medications to help make symptoms less severe and speed recovery.
The Minnesota Department of Health has a special flu website at www.mdhflu.com providing more information on the illness.