By Carolyn Perron
Ecumen VP of Organization Development

Mirzeta Huskic beams when asked about her most important contribution as a memory care nurse. "I bring smiles," she says.
Mirzeta, an LPN at Ecumen Prairie Lodge in Brooklyn Center, Minn., has a special connection with those dealing with dementia that goes far beyond a nurse-patient relationship. They see something in her that brightens the moment — and the moment is all that matters.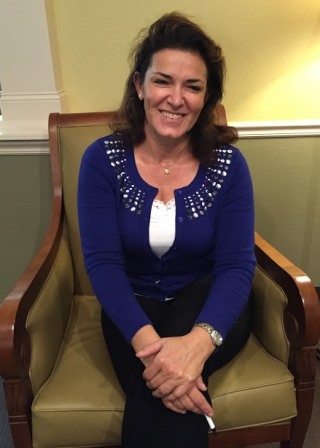 "Honestly, every day, it's like meeting new people over and over again," Mirzeta says. She may have been in a resident's room only minutes before, but when she walks in again, it's as if she's coming for the first time.
"I see smiles on their faces," she says. "They are so happy to see you. It makes you warm in your heart."
Mirzeta is a warm-hearted warrior in the day-to-day battle against dementia — someone who lives in the present and goes with the flow, meeting residents wherever their minds have taken them.
Dementia is a disease that takes a daily toll, she says, "that takes people away from us." Memory care nurses become part of their family and make intensely deep connections.
"It's an honor," Mirzeta says. "It's huge."
Mirzeta tells the story of a special bond she had with a resident who also had been a nurse. The woman kept a daily diary. When she died, her family honored Mirzeta by giving her the diary, which turned out to be a moving first-person account of the daily toll of dementia. The woman wrote of her feelings of fear and shame as the disease progressed. And slowly the heartrending sentences became only lines drawn on the page.
A memory care nurse ministers more to the emotional needs of residents than the physical needs, although that's also part of the job. But comfort comes largely through personal connections. Mirzeta says this is not a job for the task-oriented who want routine. Rather, it's for those who like dynamic situations and adjust quickly to the unexpected. You have to be alert and ready for anything, Mirzeta says, because "there's always something new."
Mirzeta was born in Bosnia, then lived in Germany before coming to Minnesota 15 years ago. After getting her nursing license five years ago, she was hired at Ecumen Prairie Lodge, where she found an instant fit among a diverse team of welcoming caregivers.
"We support each other," she says. "We respect each other. We share good times and bad times. We have very strong connections to each other and to the work."
She says her job is challenging and rewarding and her residents and colleagues are very special to her. She says that with a big smile.