Ignite your passion! Those are the watchwords for Active Aging Week®, which runs from September 24 to September 30, 2017.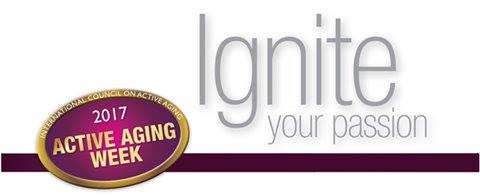 Hundreds of thousands of 50+ adults will gather at senior living communities, parks, community and senior centers, health and fitness clubs, wellness centers, YMCAs and other venues to celebrate Active Aging Week®. The international event — hosted by organizations in local communities across the United States, Canada and Australia — is held each year in the last full week of September.
In addition to celebrating living well at any age, the event also promotes positive perceptions of aging. Over the past 14 years, millions of people have come together during Active Aging Week to embrace their potential and to help shift negative perceptions of aging in their local communities. In 2017, more than 3,000 host organizations are all set to again advance active, healthy aging in their centers, communities, cities, states and countries.
Active Aging Week was started in 2003 by the International Council on Active Aging (ICAA) as an international event to celebrate aging and active living. The Council works to engage older adults in wellness activities in a safe, friendly and fun atmosphere.
"Active Aging Week encourages people to ignite their passion and participate fully in life at any age," says Colin Milner, ICAA's founder and CEO. "We all strive for positive life experiences that leave us invigorated, but it can be challenging at times to find the right avenues to do so. Active Aging Week opens up a multitude of opportunities to engage in the things that excite us and ignite our passion. Collectively, we also display to the world that aging is something to be celebrated and embraced, not ignored or devalued."
Past Active Aging Week events have embraced all dimensions of wellness – emotional, vocational, physical, spiritual, intellectual, social and environmental.