Honoring the Rich Tradition of Volunteerism at Ecumen Parmly LifePointes
Dedicated volunteers by the hundreds routinely help out at Ecumen Parmly LifePointes in Chisago City, Minn., and last week the community honored them for their service with a lunch and award ceremony.
"The special people you care for can't always thank you themselves, so as an organization, we'd like to say 'Thank you' for all you do!" said Mara Krinke, community outreach coordinator, in greeting the luncheon guests.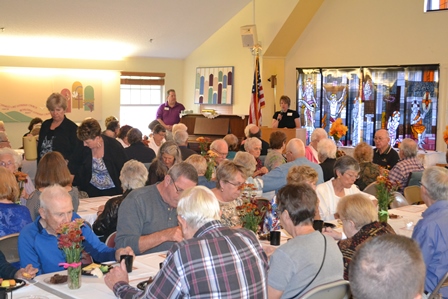 Ecumen Parmly LifePointes has about 350 active volunteers who have given more than 9,700 hours of service in the past year.
"Parmly's rich history of 110 years can't be talked about without mentioning the many contributions of volunteers," said Executive Director Frank Robinson. "Your dedication and gift of time is critical to making a difference in so many lives and supporting our mission of 'creating home for older adults, wherever they choose to live.'"
The top award is the Phyllis Lindquist Volunteer of the Year Award, named for an outstanding volunteer and later resident who gave her time for 55 years and was the first Volunteer of the Year. This year the award was given to four individuals: Jane Iverson, Virgi Johnson, Faye VanHorn and Jacob Frischmon.
Also, service awards were given from the President's National Council of Service and Civic Participation, established in 2003 as a way to recognize the valuable contributions of volunteers and to encourage more people to serve. Recipients received a service pin, a personalized certificate of appreciation and a letter from President Obama.
Lifetime Achievement service awards went to Karen Gustafson and Faye VanHorn for giving 4,000 or more hours in a lifetime.
Gold Award winners for 500 or more hours of service in a year were Jacob Frischmon, George Pokorny Sr., and Carmen Ihlenfeldt.
Silver Award winners for 250-499 hours were Richard Carlson, Anne Henzlik, Elaine Schumacher and Greg Whitney.
Bronze Award Winners for 100 to 249 hours were Faith Boston, Bob Butte, Nancy Butte, Gail Gaustad, Heidi Gieske, Jeanne Hajnasiewicz, Richard Helgreson, Eileen Hoffman, Jane Iverson, Shirley 'Sunshine' Mollan, Joan Peterson, Chuck Roberts, JoAnne Robertson, Harriet Ryberg, Roman Seidel and Donna Spreitzer.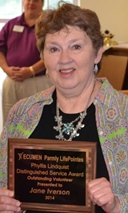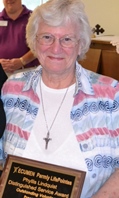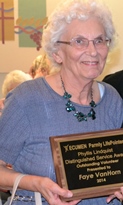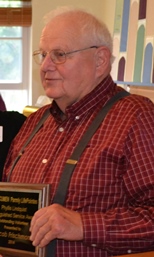 Volunteer of the Year Winners (left to right) Jane Iverson, Vergi Johnson, Faye VanHorn, Jacob Frischmon