Honoring Ecumen's Longest Tenured Employee: Dawn Bolhuis, LPN, Kindhearted and Compassionate Nurse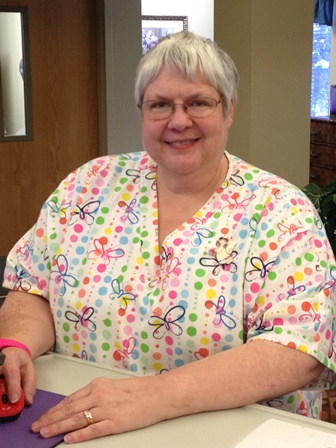 Nurse Dawn Bolhuis, Ecumen's longest tenured employee, can't wait to start her next shift, and the residents she cares for can't wait to see her.
Her shift starts at 6 a.m. Dawn Bolhuis, LPN, a long-term care nurse at Ecumen Pathstone Living in Mankato, Minn., will not be late. Her residents depend on her, and, like every other morning, she can't wait to see how they are doing today. And they can't wait to see her.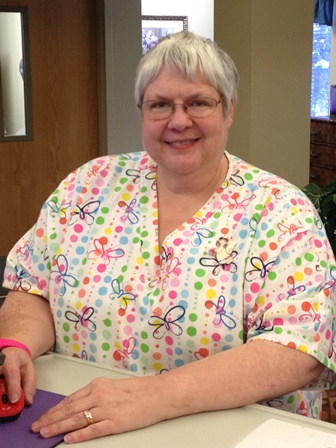 With a beaming smile, she'll start her rounds, pushing the med cart down the hall, handing out pills with her own special style of care. Everybody who wants a morning hug is about to get one. "A hug goes a long way," Dawn says.
Dawn is Ecumen's longest tenured employee, with just over 41 years of service. The last 24 years, she has been a nurse who dearly loves her job and the people who are in her care. "I love my job very much," she says. "I love working with the residents. I love patient care."
She was 15 years old and in the 10th grade when she first came to work here and the community was known as Mankato Lutheran Home. She started part-time in housekeeping making $2.15 an hour, stripping and waxing floors on weekends. She worked in housekeeping for three years before becoming a nurse's aide — a job she would hold for the next 15 years.
She was a natural. The nursing instructors who would come around spotted her talent and kept urging her to go to nursing school. Finally, at age 34, she did. It has worked out well, both for her and the hundreds of people she has cared for over the years. Her approach to nursing is straightforward: "I do everything for the residents that I would do for my own Mom and Dad. No shortcuts."
If you are in Dawn's care, you can count on that shining smile every morning and a desire to connect with you on a personal level. When she asks you how you are doing, she genuinely wants to know. She will listen, and will do her best to help. If you're crabby, she'll try to cheer you up. She will tell you how nice you look today. Maybe she'll cajole you to drink your prune juice. Or maybe she'll help you comb your hair. There will be no doubt in your mind: her visit is all about you.
When she has a day off, you will miss her. You will miss how she bursts into the dining room every morning and loudly greets everyone.
Just as Dawn honors people in life, she honors them in death. This is the hardest part of the job for her. But when you pass on, you can count on her to be there hugging your family, and your family will get a card from her telling them what an honor it was to get to know you and care for you. That's exactly how she feels.
Larry, her husband, will be there by her side at your visitation. He knows how hard this is for Dawn to tell you goodbye. He also knows how much she loves her job, and does what he can to support her. Every morning, he's up at 4 a.m., helping make sure she gets to work on time. He drives her to work and picks her up when her shift is over. If she has to work late, he waits.
"Dawn is always willing to come early or stay late and help out any way she can," says Sara Rosado, the nurse manager of long-term care. "She has such a positive attitude." On Christmas day, she got called in at 3 a.m. and pulled a 12-hour shift.
In all her time working here, Dawn has seen "unbelievable" changes in patient care. She was there in the days when physical restraints, bed rails and alarms were the approved standards of care to protect residents from falls, and she is glad those days are over. "It's so much different now — for the better," she says. "We just didn't know any better then, but now we do. Change is good."
Kim Rydeen, the director of nursing, commends Dawn for her willingness to deal with change, even when it is hard for her. "She never says 'I can't do it,'" Kim says. "She has a positive attitude and embraces change and goes with it."
Kim and Sara also praise Dawn for her excellent rapport with the staff. She's always rewarding them with treats and keeping them entertained with her endearing sense of humor. For example, on Halloween, she dressed up like a witch and put fake spider webs on her med cart. About 10 years ago, the staff voted her "Caregiver of the Year," and the Mankato Free Press came and did a story about her.
Margo Isebrand, RN, an Ecumen quality improvement nurse, who is a former director of nursing at Pathstone, says this of Dawn: "She is the epitome of who I would want to care for a loved one. She has a true love for what she does. I can honestly say she is one of the most compassionate and connected nurses I have had the privilege to work with."
Dawn has been honored at her significant anniversaries. She got a watch at 25 years, a necklace at 30 years and a clock at 40 years. "I've been here so long, they've run out of ideas of what to get me," she jokes. When nursing students come for visits, Dawn's tenure usually is cited. "When those young nurses hear I've been here more than 40 years, you can just see their eyes get big. They can't imagine it."
Does she ever think about retirement? Well, once she mentioned it to Larry, and he said: "You'll never retire. You love those residents too much."
Sara Rosado, her supervisor, agrees: "I think she will work until she can move into a room here."
—
Thank you, Dawn for all that you do. Ecumen honors you.