On Christmas Day when Mary Alice Landeen was five years old, her father gave her a gift that has kept on giving for the past 82 years.
"It was the best Christmas ever," Mary Alice says, her face beaming with the memory.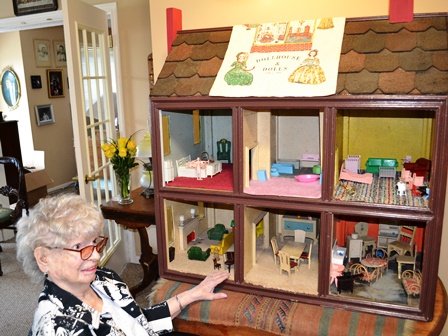 The gift has moved with her all her life and now sits in a place of honor in her apartment at Ecumen Lakeview Commons in Maplewood.
It is a doll house — a very large doll house — that her father made by hand with loving craftsmanship in the basement of her childhood home in North Saint Paul. It has glass windows, tiny furniture and carpeting — and the look of a house that has been cherished.
Gazing around the apartment, it is clear that Mary Alice's father also gave her the gift of craftsmanship. Throughout her life she has done sewing, quilting, knitting and macramé and shared her skills as a teacher. At Ecumen Lakeview Commons, Mary Alice continues her devotion to crafts. Today she has just returned from a weaving class.
The finest examples of her work are displayed around her home, which looks like a museum.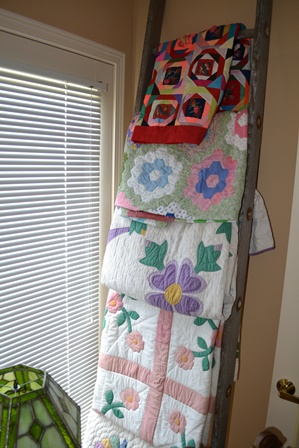 On her bed is a yo-yo quilt she made. Tiny circles of fabric are gathered up at the edges and painstakingly sewn together to create a three-dimensional effect. Her massive wooden bed belonged to her grandmother.
Throughout the apartment are her antique collections, such as spoons and thimbles. And in a trunk under the dollhouse is her wedding gown. A picture of Mary Alice in the gown hangs on her wall.
Mary Alice was married to Harold Landeen, now deceased, who worked at 3M his entire career. He was a Lions Club governor, which took him and Mary Alice on numerous trips around the country. They loved to travel.
Today she has an apartment crowded with visitors, including son Greg Landeen and his wife Barb, who are reminiscing with her as she proudly talks about her antiques and fond memories.
A photo hanging above the television in the living room shows her grandfather McQuillan on a horse in front of a Summit Avenue home. He was an original founder of McQuillan Bros. Plumbing in St. Paul.
"I'm part of the history of Saint Paul," Mary Alice quips.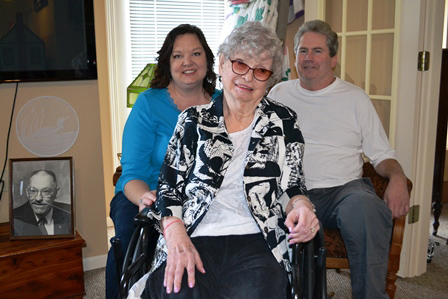 Mary Alice with Barb and Greg. A picture of Harold, her husband, is on the left.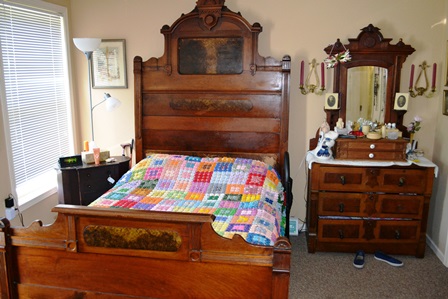 Her grandmother's bed, covered in a yo-yo quilt Mary Alice made.