(Note: Dr. Beaumier died May 23, 2017. His obituary is at this link.)
When a young John Beaumier was trying to make his way in the world, someone was always there for him. With help from others along the way, he became a highly accomplished Mayo-trained orthopedic surgeon who loved his work and prospered.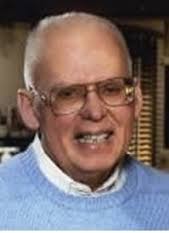 Now a resident of The Crest at Ecumen Lakeshore, John deeply believes in paying his good fortune forward. In his retirement and throughout his career, he has generously given his time, money and expertise to others who need a little help.
John grew up poor in the 1930s in the Upper Peninsula of Michigan, where he says "if you were rich enough, you had a bike." So he walked a lot.
He was academically and athletically gifted and got a scholarship to Michigan State University. But he realized immediately this was a mistake. He just didn't fit in, and at 165 pounds, he knew he wouldn't make the football team. "I was lost. I wanted to play football so bad but there were lots of guys heavier and faster," he recalls.
He finished the quarter and returned home, much to his father's disappointment. Later he got a scholarship to Northern Michigan University (NMU) in Marquette, Mich., where people were kind to him and helped him along with money, mentoring and friendship. "They were wonderful people, so kind to me. They accepted me as person not a number."
He remembered that kindness last year with a gift of $1 million dollars to NMU to build the Beaumier Alumni Welcome and U.P. Heritage Center in Marquette. That was the second million he has given the school.
After graduating from NMU, John went to Marquette University in Milwaukee to medical school. He had the dream of being a physician since he watched doctors treat his seriously ill older sister when he was seven years old. His sister died when she was 29-years-old and John was still in high school
To help finance his medical education, he signed up for a five-year stint in the U.S. Navy, where he did his internship. But the most memorable event of those years was meeting Mary Jane McKenna, who would become his wife of 57 years and mother of their nine children. "I still can't believe she ever agreed to go out with me," John says.
When his Navy service was over, John did his residency in orthopedic surgery at the Mayo Clinic in Rochester, which he finished in 1965. His first practice was in Wisconsin, where he remembers making $15,000 a year, buying his first house and anxiously taking on a mortgage. "I was miserable," he recalls. "I couldn't sleep. But it all worked out."
Then the family moved to Grand Forks, ND, where he got an offer that doubled his salary. They stayed for 25 years. "It was the best," John says. "There were so many wonderful people there. My partner was a genius who had excellent judgment and was a wonderful man."
As he became more established and financially stable, his desire to give back tugged at him. He wanted to do an overseas mission and got encouragement from his wife, kids and partners.
"I heard they needed somebody in Bangladesh," John recalls. He remembers loading a hockey bag with medical supplies each trip and heading for the poverty-stricken country. He made five trips there, including one after the famous 1991 cyclone that was among the deadliest tropical storms on record. More than 138,000 people were killed and 10 million left homeless.
"They needed so much help," John recalls. "It was so fulfilling to be there."
On one trip, he was asked to treat a man who had a severely burned hand. All the skin was gone and the tendons were showing. "This man needs a plastic surgeon right now or he will lose his hand," John said. He was told it would take a month to get a plastic surgeon, so he decided to do whatever he could. He took a flap from the man's abdomen and grafted to his hand. The operation was a success. "I had never done that procedure before and I have never done it since," John says. "But it worked perfectly."
When the kids were grown, John and Mary Jane decided it was time to make a move. In 1993 they went back to Rochester where he was Mayo's director of orthopedic evaluation and professor of orthopedic surgery at the Mayo Graduate School of Medicine. He retired in 1998. They came to Duluth after a traffic accident that fractured Mary Jane's spine.
Now 84, John lives at Ecumen Lakeshore. Mary Jane died in April. John glows as he talks of their years together. "Mary Jane taught me two very important things," he says. "Never take yourself seriously and learn to laugh at yourself."
Recently they made a $12,500 contribution to install cabinetry in the Ecumen Lakeshore Grille. They directed the plaque to read, "In honor of Ecumen Lakeshore volunteers."
John is an active tenant of The Crest, where he is known for his wit and storytelling ability. Many of those stories have a common theme: Gratitude. He is a man who remembers where he came from and all the people who helped him along the way, and he has an abiding need to reciprocate. "There we so many good people in my lifetime, I felt I owed something."
"This has not been an easy road traveled by any means," John says. "I've had my ups and downs like everybody else. I know you can't go it alone."
Jana Warner, the events coordinator of The Crest, says, "John is a very generous man who cares deeply about other people. When he talks about his career, you can't help but notice the real joy he got from being able to help someone who needed it. I'm grateful to know him. He is truly a fine example of what it means to be generous in more ways than just financially."
Roxanne Sternberg, Residence Director at The Crest, said: "It was seven years ago when I had the privilege of meeting John and Mary Jane Beaumier. They were such a lovely couple, and I was so pleased that they chose to make The Crest their home. Little did I know at the time that I would soon be meeting the entire Beaumier family. And what a wonderful family they are! Their children and grandchildren would travel from near and far to visit their parents and grandparents, filling up our guest accommodations and making sure the party rooms were well used! I would watch in admiration as John and Mary Jane would stand by the front doors and wave goodbye after a weekend (or sometimes a week) of visiting. You can always feel the love when their family comes to visit. It is very apparent to me that John and Mary Jane did a wonderful job raising their children with the same morals, values and standards that John and Mary Jane lived by. When Mary Jane passed away just two months ago, I again witnessed the love and strength this family possesses. They are remarkable people, and I am so very grateful to them for not only their kindness and generosity, but their friendship as well."