Her Cup Runneth Over: Ecumen Detroit Lakes Chaplain Vicki Marthaler Retires After 19 Years
Nineteen years ago, Vicki Marthaler became the chaplain at Ecumen Detroit Lakes — not quite sure what she was getting into. As it turned out, she got deeply into people's hearts and souls, and they returned the favor, giving her riches beyond her wildest dreams.
Nineteen years ago, Vicki Marthaler became the chaplain at Ecumen Detroit Lakes — not quite sure what she was getting into. As it turned out, she got deeply into people's hearts and souls, and they returned the favor, giving her riches beyond her wildest dreams.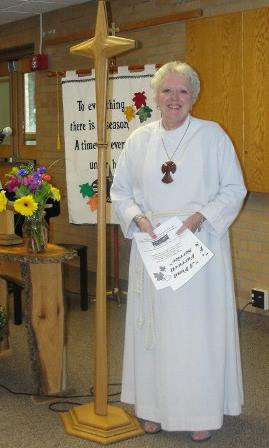 Chaplain Vicki made her fortune and retired last week, leaving with a boundless portfolio of stories, lessons and profound wisdom that come when people connect on the deepest levels at the most vulnerable times.
"I can't tell you how rich I am — how blessed I am," Vicki says. "So many people have shared their lives with me — their memories and their stories, and I have packed them in my heart."
"I can't believe I'm leaving," Vicki says. But there is a call as powerful as the call of the ministry —"the call of the grandchildren." After almost 40 years of living and raising a family in the same house in Detroit Lakes, Vickie and her husband Mark, who is also retired, are picking up and moving to be with their two grandbabies, Betty and Lillie, in Vermont. And this is gut-wrenching — so happy about where they are going, so sad about all they are leaving behind. "But it's now or never," Vicki says. "They grow up so fast."
At Ecumen Detroit Lakes, where Vicki's voice boomed in the hallways all these years, there is a void. Vicki is a proponent of the "ministry of presence" approach — just being there for whoever needs her, laughing and crying day in and day out, banging the piano and leading the residents in joyful song, doing whatever job around the nursing home that needs to be done, giving comfort to the sick and dying. She was always there….
Vicki has been at the bedside of more than 1,200 people as they have left this earth and officiated at countless funerals, and it has been a privilege. "When you do funerals, you are in the most sacred spot of life of a person," she says. "It is quite a blessing and an honor."
To honor a person's life, Vicki created "tribute sheets" for every resident who died, allowing the staff to write their memories as a way of dealing with their grief. She has saved every one of the tributes "because I'm going to put them in a book someday."
On her way out the door, Vicki wrote down her touching recollections of "What I have learned in 19 years working in a nursing home." The stories spill out like gold. They are poignant remembrances of the power of the human spirit [and are reprinted following this article].
Vicki wants to dispel the common notion that a nursing home is a "place of gloom and doom." Her stories are about fun, celebration, practical jokes, courage and faith. "The power of God — you can touch here," she says.
Nowhere is that power so apparent as in the memory care community. Sometimes she would get a call to come there to help agitated residents with dementia calm down. She would try to match their level of agitation with the music, maybe starting with "Onward Christian Soldiers," then slowing the pace with each successive hymn "to bring them to a place of quiet and peace."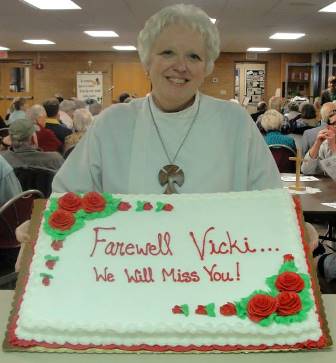 "I can walk in there, and they seem to be aimless and mindless. And I'll start playing "In the Garden" or "What a Friend We Have in Jesus" or "Jesus Loves Me" and all of a sudden they start gravitating toward me — people who can't talk, will start singing. Or I'll say: Let's pray… "Our Father Who art in heaven" and they will pray with me. They have trouble making a coherent sentence anywhere else but they will pray with me. I tell you, it is so powerful. And there is a peace that comes over them and they get so calm, and some fall asleep — just like in church."
Twenty years ago, Vicki was a high school social studies teacher "dabbling in the ministry" who started filling in for the ailing chaplain at Ecumen Detroit Lakes and quickly found her passion that would become her new career. When the chaplain could not return to work, she was offered the job, along with the perk of supplementary ministerial education. When she told her family, they were taken aback.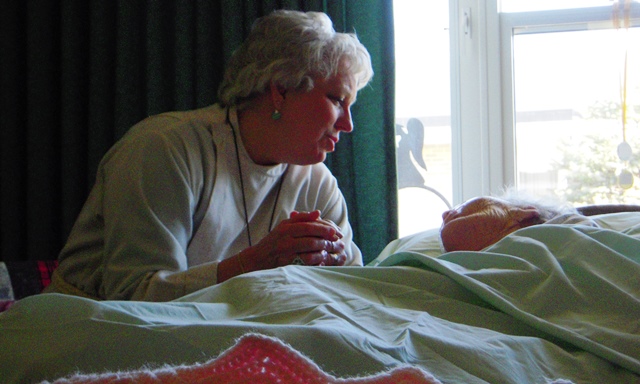 "Gosh, Mom," one of her sons said, "if you take that job, you'll come home crying every day." So she thought about it, and prayed about it, and decided it was "a call on my heart."
She took the job. She came home every day not crying — but laughing — telling hilarious stories about the antics of the residents. Then her husband and two sons started coming to the nursing home just to see what was going on, and before long they were volunteering. "It became a wonderful family affair," Vicki says.
Now, 19 years later, it is over — the job of carrying hope and strength, sharing pain and joy, bringing comfort and connection. Last week there was a "fond farewell" for Vicki at Ecumen Detroit Lakes, chronicled here on Facebook.
Now it's time to pack up and go to Vermont to minister to the grandbabies — and almost certainly find another nursing home that needs her.
"Even if I don't get another chaplain job, I'll be working in a nursing home," Vicki says. There is just too much richness there. I can't let it go."
—
What I Have Learned in 19 Years Working in a Nursing Home….
A Reflection by Chaplain Vicki Marthaler
Serving as chaplain to the residents, their families and the staff of Emmanuel Nursing home for the past 19 years has been an extraordinary experience. I have learned so much. My life is richer and deeper because of the friendships created and life events shared.
Reflecting on the past 19 years,
I have learned Emmanuel isn't about death and dying. Emmanuel is a home where residents come to LIVE! Emmanuel is about life! I will long remember an afternoon social event at Emmanuel where the party fare was cheese and crackers, herring, barbequed smoked sausages and wine served in fancy goblets. I was playing big band music on the piano and the staff was serving the residents appetizers and pouring their choice of beverage when Myrtle B. lifted up her empty glass for a refill and announced to the world "This is just like real life!" Cheers went up all around and I was reminded that life is worth celebrating every day, in every way.
I have learned that you are never too old to have fun. In her late 80s, Florence moved to Emmanuel for a little help. She was widowed with no children and her nieces and nephews worried themselves sick over her because Florence was what we would call a "live wire!" Her favorite thing was to play practical jokes. One April Fool's Day, Florence enlisted the help of staff to lay her down on the dining room floor and then she yelled at the top of her lungs for help! Nurses came running from every direction! Falls are taken very seriously at Emmanuel and as Florence was being carefully evaluated for broken bones, she sweetly looked into the nurses' faces and said "April Fool." It would have served Florence right to let her lay on the floor for a time by herself, but the nurses, so grateful that there wasn't a broken hip or leg to report, helped Florence to her feet and laughed out loud with the rest of the dining room!
I have learned that dementia, like Alzheimer's, cannot diminish the Spirit of God. Faye's vibrant love of life and love of her Lord was so evident when she came to Emmanuel. Her faced was always wreathed with her inviting smile and her eyes sparkled. She was a friend to all and she never missed chapel time. After one hymn sing, Faye came to me with open arms and hugged me tightly. Then she drew away with her hands on my shoulders and said "I hope you have trouble in your life." I have to confess that was quite a benediction to hear! But before I could respond, Faye continued "Because then you will know more of God." Those powerful and profound words continue to echo in my soul
I have learned that friendships last a lifetime. Ruth and Norma were both in their 90s when they came to live at Emmanuel and they ended up right across the hall from each other. It came to light that when Ruth and Norma were little girls – maybe 3 and 4 years old – their families were neighbors and they attended the same little country church of St. Peter's! Ruth and Norma remembered playing in the church basement together. As life continued, the families moved to different places. Norma and Ruth grew up, married, had families and were both widowed. They had been out of touch with each other for a number of years, and now, at Emmanuel they were neighbors once again. What a delight to spend time together and catch up!
I have learned that when people are challenged, creativity saves the day! Gloria was a younger resident of Emmanuel. She was in her mid-70s and very ill. Gloria was facing her last days. Gloria accepted her circumstance with a strong faith yet her one regret was that for her last Christmas, she wouldn't be able to have a Christmas tree in her room. Gloria loved Christmas and she especially loved decorating a Christmas tree. But her room was quite small and there were various pieces of equipment that had to be in her room as well. The floor space was limited and even though a small tree could maybe be managed on a table top, it just wouldn't be the same. The staff brainstormed for days on how to give Gloria a Christmas tree in her room. Finally the answer presented itself and when Gloria came back to her room after having a shower, there was a full-sized, lighted Christmas tree in her room – hanging from the ceiling! The box of Gloria's own Christmas decorations was also in the room and Gloria spent the rest of the day unwrapping her decorations as the staff hung them on the upside down branches of the tree! It was an amazing gift and the talk of the town! Gloria died peacefully in January and the Christmas tree hanging from her ceiling brought her joy those remaining days.
I have learned that babies and puppies will always bring a positive response from residents. Ida had what nurses called a "flat affect." Ida didn't smile. She didn't frown. She didn't seem to react to anything or anyone around her – until you put a puppy in her lap or a baby in her arms! The transformation was astounding! Eyes would brighten! A huge smile would emerge! It was like a light switch had been turned on. Or, solemn men like Warren would become gentle grandpas talking baby talk and wiggling their big fingers to tickle tiny baby bellies. Stella, deep in dementia and mother of 12, resorted to her long-ingrained instinct to tuck the blanket around the baby and give soft kisses to the baby's forehead. Even grumpy Millie burst into peals of laughter as a basket of furry puppies was dumped on the floor and the puppies tried to walk their way out of the litter stepping on and over each other with puppy delight. Babies and puppies are powerful medicine!
I have learned that Halloween isn't just for kids. Residents will skip supper because they don't want to miss handing out candy to the children who come early. And of course, a few residents will eat most of their candy before the kids come to trick and treat! Fun hats make the best costume pieces and even dignified old men will agree to being costumed in a dress, wig and carry a big purse filled to the brim with candy on Halloween.
I have learned that residents in dire circumstances ask for surprising things. Louise was pretty much bed bound. She was 89 pounds soaking wet and was on oxygen 24/7. She had little energy, little strength. I remember visiting her and asking her what we should pray for. I imagined she would ask for healing, strength, mobility – all the things that I would ask for. As she lay curled up under a soft blanket, she reached for my hand and whispered "please pray that I don't get crabby." I left her room humbled and amazed.
I have learned that this side of heaven we will never know why beautiful, smart, caring, fun people and their families have to endure Alzheimer's, strokes, Parkinson's, osteoporosis, COPD, cancers or any of the other life-robbing diseases,
I have also learned that those same beautiful, smart, caring, fun people and their families living with life-changing illnesses have a friend, an ally, an advocate and a home at Emmanuel with its staff committed to honoring life and providing care.
I have learned that when someone is dying, it is okay to remember and share stories of that person's life. It is okay to laugh. It is okay to cry. It is okay to not know what to do next. It is okay to just be present and hold a hand.
I have learned that life is more than what we see and what we experience here on earth. I have been at the bedside of over 1,200 residents who have died. I do expect to see them all again – I expect to have an Emmanuel reunion one day in the heavenly realm.
I have learned that the Ecumen Detroit Lakes Emmanuel staff is solid gold. I consider it a great privilege and a distinct honor to proudly say I have worked side by side with the very best for 19 years.
I have learned that Emmanuel lives up to its name: God with us. I have experienced the love of God every day through the residents and the staff here at Emmanuel and also extending out into the Ecumen Detroit Lakes campus of Lamplighter Manor, The Madison Apartments, The Cottage and the townhomes.
Thank you. Thank you for 19 wonderful years. I will carry the memories, the friendships and the learning with me.
And may the Lord bless you and keep you,
May the Lord make His face to shine upon you and be gracious unto you
And may the Lord look upon you with His favor and grant you His peace,
Now and forevermore,
Amen.