Those who think older people can't be creative are "Wrong. Deeply wrong," writes prominent journalist Chris Farrell.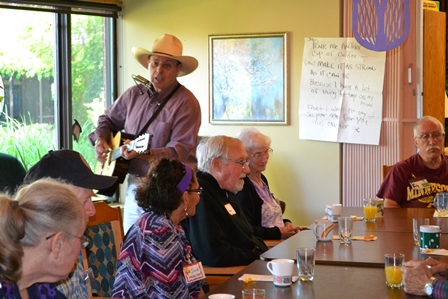 In his Next Avenue story Farrell writes: "What I see in a sunlit room in rural Minnesota is a small example of a much larger social shift gaining traction: The growing realization of how erroneous the widespread stereotype is that older people can't be "creative."
Farrell recently visited Ecumen Parmly LifePointes in Chisago City and observed storyteller Charlie Maguire work with seniors to write songs. Ecumen has a strong commitment to arts programming to enhance the quality of life of our residents. Maguire is one of many artists who work in Ecumen communities helping senior express their creativity.
Farrell is a regular commentator for Minnesota Public Radio and writes columns for Bloomberg Businessweek and the Minneapolis Star Tribune. He specializes in economics reporting but recently has started blogging as Next Avenue's "unretirement expert."
For more about Ecumen arts programming:
Ecumen and ArtSage Team Up To Connect Aging and the Arts
Star Tribune: How ArtSage Programs Inspire the Elderly to Create
Three Ecumen Communities Awarded Minnesota State Arts Board Grants To Enhance Creative Experiences for Seniors