A Goodbye Without Tears – Almost
A few weeks ago I ended my ties with a biking community—one rather close to my heart—that has lasted nearly four decades. The community is moving on. It has my love and a few of my tears. It was more or less my creation, but it can and will do very well without my prodding; and certainly without my wake-up whistle in the campground at 5:30 in the morning.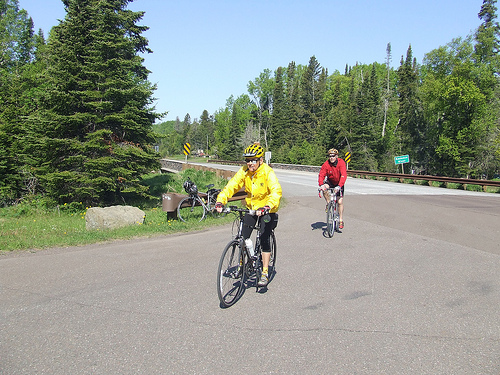 A disclosure: my introduction to the cult of bike riding occurred in the early 1970s when a colleague at the Minneapolis Star and Tribune, Barbara Flanagan, invited me to join her in one of her weekly rides around Lake Harriett in Minneapolis. She said it was both scenic and therapeutic. She said it not only rescued you from the bedlam and smoke clouds of the newspaper's city room, but also invited the biker to perform some introspection, probing your goals in life while you were admiring the swaying willows and the swans.
That it did, although I also had to point out that if you were riding that close to the lake there was also a potential hazard. While you were introspecting you could capsize into the bay trying to get in touch with your id.
But the allure of riding beside and through woodland and listening to its sounds, to romp beside cornfields and beneath eagles' nests , eventually turned me into a kind of serial biker, attracted by long distance goals. I once biked solo around Lake Superior in seven days, 1,100 miles; not to prove it could be done, but also because I had commitments on either end of it. It also introduced me to the lively antagonisms that had developed between hard-headed cyclers and equally assertive semi-trailer drivers. I was pedaling along the white line that defined the edge of the pavement on the long three-mile hill near the St. Louis River in Canada. My saddle bags were bulging with my rolled-up tent, sleeping bag and spare clothing, when I heard the blasts of an air horn behind me. The guy was hauling steel and wasn't overjoyed to be sharing the road with a flimsy bicycle. He kept hammering the air horn.
When he passed me his rig wasn't going much faster than my bike. The passenger window was open. I yelled that that there was no shoulder on the road, I was entitled to the white line and he was some kind of head case. I also called him every unflattering name I could think of, a few of them in four-letter words.
When I neared the top of the three-mile hill he had parked his rig and was standing on the road with his hands on his hips, ready to fight, and actually not much bigger than I was. I was smoldering and said, "Ok, let's go."
As it turned out, he thought it was time to end the comedy and got back into his rig. Ten miles down the road I stopped for breakfast in a small Canadian cafe. There was only one seat left at the counter stools and I sat down, to a blast of guffaws from the guy sitting next to me. lt was the semi driver. "You know something," he said. "I gotta buy you lunch. That show back on the highway belonged in the circus."
But by then the allure of cross country biking broadened in America, the equipment advanced and readers began writing, asking whether they could join my next trip. So the newspaper promoted one of the earlier week-long group rides in the country. In the first years it was hardly a cultural trailblazer. One rider showed up in cowboy boots and sombrero and sang Willie Nelson ballads until he was deflated by his third flat tire of the day. Panniers loaded with rain jackets, towels, change of clothes and jars of mosquito juice hung from whatever exposed surface was available on the bicycle. One little old guy wore a beanie on his head topped by a mini propeller that spun erratically, depending on the wind and the grade of the next hill.
But an idea developed as the years progressed. The equipment was better, women in sizeable numbers joined the group and a concept slowly evolved among the riders, meshing with one I admired. A community was evolving here. The riders found themselves renewing the experience each year in early summer. Friendships had developed, not casual or notional but renewable, not only on the ride but also away from it. What happened in Nancy's life, or Fred's, mattered to the others. At least two marriages were performed DURING the tour. A professional musician on the ride played the wedding march in Mankato, Minn., and the couple, arriving on a tandem bicycle, entered the marriage hall through a corridor of crossed tire pumps. The membership in the ride reached 150, a nice figure all around.
So it offered laughs along with renewal, and consolation in the face of solemn news. Years ago when I was about to retire from the newspaper, I brought the folks together to explain that since the sponsorship was ending we would have to close the bike ride. I thanked them for the hours we'd traveled together, what we had shared. Three or four days later I began getting phone calls at strange hours of the night – 2 a.m. and worse. "Bad things could happen," the voice would say, "if you drop this bike ride." An hour later, another voice. Same message. It was guerrilla warfare. What else. They wanted to keep the ride going. So I took it over to manage in my retirement. Some years later the Adventure Cycling Association presented our group with its Pace Setter award, citing our ride as "a pioneering effort to get people out of the cities and into beautiful areas of rural Minnesota (and neighboring states) teaching people to become bike tourists, to meet personal goals and to help them become more active by building relationships."
On our last night of the ride a few weeks ago I turned over the management to a friend with the thought that it was time for someone a little younger than my 85 years. There were hugs, and some tears, including mine. I told them the thanks instead should be coming from me, for all of the friendships that had evolved in my life because they were there, and for all they had brought into my life. Somehow I think the semi driver would have enjoyed the scene, and happily joined in with his air horn.
Photo courtesy of Dan Hicks via Flickr.