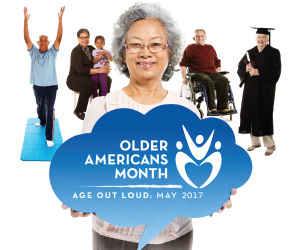 Give aging a new voice – one that reflects what today's older adults have to say! More than ever before, older Americans are working longer, trying new things and engaging in their communities. They're taking charge, striving for wellness, focusing on independence and advocating for themselves and others.
What it means to age has changed. This May, join Ecumen in celebrating Older Americans Month, led by the Administration for Community Living.
Lois Bowers, senior editor at McNight's Senior Living, recently wrote about her experience dining with a vibrant older couple at a local jazz club, "This couple's presence was a good reminder that aging doesn't necessarily mean losing vibrancy. And that's a timely message as May begins." The article below, originally published by McKnight's, sheds light on how aging has changed.
Aging Out Loud
by Lois A. Bowers, McKnight's Senior Living Senior Editor
Friday night, my husband and I went to a local jazz club to see a favorite performer.
We arrived early, because dining at the club ensures a better seat for the show, and Stanley Jordan is a musician one needs to see up close — he is known to play multiple guitars at once, or a guitar and a piano at the same time, and it's fun to watch his fingers work and see his facial expressions as he taps the fretboard.
The center of the room was filled with three long rows of tables-for-two lined up next to one another. We were seated across from each other in the middle of one of the rows.
We belatedly were celebrating my husband's birthday that night, and it turned out that the two couples next to us also were celebrating birthdays. That revelation led to a conversation about age, and the smartly dressed woman seated next to me said she was turning 84. Her husband, seated next to my husband, proudly said he was 89 and shared that exercise was the secret to his longevity, despite a bad back that caused him to walk hunched over.
We all marveled at their apparently good genes and their activeness. I probably was not alone when I thought, "If I make it to their age, I hope I am blessed with similar mental and physical health."
"It's great that you came out for the show," my husband said, making small talk.
"When are we home?" came the response, with an explanation of all of the activities that keep the two out of the house. Before dinner arrived and we turned our attention to our plates before Jordan hit the stage, my neighbor and I had a pleasant conversation about all of our favorite area restaurants, discovered that we have the same first name and joked about how often we are called Louis.
This couple's presence was a good reminder that aging doesn't necessarily mean losing vibrancy. And that's a timely message as May begins.
Each May, the Administration on Aging and the Administration for Community Living, part of the Department of Health and Human Services, observe Older Americans Month. This year, the theme is Age Out Loud.
"What it means to age has changed, and OAM 2017 is a perfect opportunity to recognize and celebrate what getting older looks like today," the agencies say on the Older Americans Month website. The site includes materials, activity ideas and other resources people can use to mark the month.
Our dinner companions on Friday were aging out loud, engaging with those around them and experiencing a musician who was new to them. And all of us were the beneficiaries of their doing so.
Lois A. Bowers is senior editor of McKnight's Senior Living. Follow her on Twitter at @Lois_Bowers.