When building a house that you want to be warm and inviting around the holidays, clearly the best material is gingerbread. Gingerbread is timeless, sturdy, traditional and pleasing to the eye — and nose and mouth.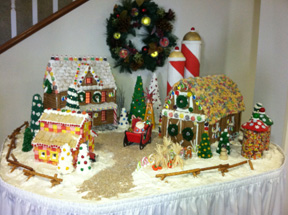 At Ecumen Lakeview Commons in Maplewood, Minn., and Ecumen Bethany Community in Alexandria, Minn., residents, their families and staff are feasting their eyes on elaborate gingerbread displays and probably harboring naughty temptations to eat a roof or a door.
For the last eleven years, Glen Glancy, foodservices director at Ecumen Lakeview Commons has volunteered his time to build gingerbread displays. For him, it's an art form he takes very seriously. He starts with his imagination and makes scale drawings to guide his work. Then he makes all the gingerbread and royal icing from scratch. Displays have ranged from castles and cathedrals to a fire station street scene. This year's display is a farmhouse and barn and Santa in his sleigh.
At Ecumen Bethany, clients in the day services program built a gingerbread village under the supervision of Geralyn Anderson, who is a day services assistant. She baked all the pieces for the buildings from scratch and brought them in for clients to assemble and decorate.
Geralyn volunteered her time and supplies to assist clients in constructing the village, which is mostly edible.
"It was so much fun hearing the clients reminisce and laugh as they glued, embellished and frosted," said Randee Hall, the Ecumen Bethany director of community services and marketing. "We caught a few nibblers in the act, too."
Randee says Geralyn is always willing to lend a helping hand. "She is so patient and will latch onto a client that may need extra assistance so they don't get discouraged."
The tradition of building holiday gingerbread houses has survived for 200 years — longer than a lot of brick and mortar. Some gingerbread historians say the first houses were built in Germany in the early 1800s, inspired by Grimm's fairy tale "Hansel and Gretel."