In celebration of her upcoming 96th birthday, Gertrude Nelson checked another adventure off her bucket list this week. Even though she can't swim and is afraid of the water, she proudly rode a Jet Ski with the help of her admiring team of caregivers.
Gertie's bucket list is an ongoing topic of conversation and awe at Ecumen Parmly LifePointes in Chisago City, where she lives. Her sense of adventure is exceptional for a nonagenarian. "She's a wonder," says Pastor Ron Gerl, the Parmly chaplain.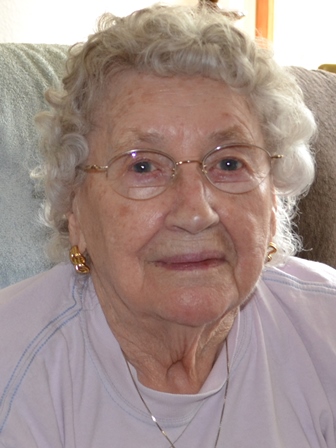 Here's her bucket list so far:
Hot air balloon ride. Check.
Motorcycle ride. Check.
Helicopter ride. Check.
Zip Line ride. Check.
Jumping out of an airplane. Check.
Yes, she skydived when she was 91. "Everybody thought I was crazy," Gertie says, flashing her playful smile. "It was beautiful. And I made a perfect landing without skidding."
Why did she do it?
"Why not?" says Gertie. "I really don't know how it happened. I just wanted to do it, and I did it."
Further probing leads nowhere. Gertie clearly is not given to self-analysis. But as she talks about her life, she describes a defining moment.
She grew up during the Great Depression and met her husband in Marine on St. Croix, Minn. He was delivering groceries and "it was love at first sight." By the time World War II broke out they had two young daughters. He went into the Army and soon afterward was killed in France.
Gertie got the news in a letter. "I opened the letter and just screamed and hollered," she recalls as tears form. "Just like that, he was gone. It was so bad."
She quickly changes the subject. "It's been a wonderful life," she says. "Everybody here at Parmly knows me and likes me. They're like family."
This is true. A dozen Parmly employees were determined to honor Gertie's wish and empower her to ride the Jet Ski. The idea was first hatched on her birthday last year, which is Nov. 13.
Nurse Sheryl Flint, the Housing Clinical Manager, asked Gertie what was next on her bucket list. Gertie said she didn't know. Sheryl said, "Well, I have a Jet Ski you can ride if that interests you."
Months later, Gertie asked Sheryl, "Is that Jet Ski ride still on the table?" And the planning began.
On Tuesday, the big day, Tom Hendrickson, the Parmly Transportation Director, pulled up in the campus bus, as Life Enrichment Supervisor Kathleen Manning rolled the enthusiastic Gertie out, with her entourage of supporters following. Pastor Ron was there, along with Housing Director Mara Krinke and Marketing Director Darlene Shafer.
"Hey, Gertie, are you excited?" Mara asks.
"I'm happy!" Gertie replies, swinging her fist.
The bus rolls to Sheryl's home on Forest Lake, where more Gertie fans are waiting — Brooke Anderson, Housing RN Clinical Director, Rita Dodge, Resident Service Coordinator and Resident Assistants Missy Johnson, Lori Maher and Becky Mann. Their job is the challenging task of getting Gertie safely on the Jet Ski, which takes about 10 minutes. Gertie's heart is willing but her legs need a boost.
When Gertie is securely on, Sheryl jumps in the driver's seat and they quickly disappear on the lake, with Sheryl's family members escorting them on two separate Jet Skis as a safety precaution. Twenty minutes later, they pull back to the dock.
"I did it! It was wonderful!" Gertie exclaims as the clinical staff goes into action to get her off the Jet Ski — which is far more complicated than getting her on. With precision, they jump in the water and gently lift her off and raise her high into the wheelchair resting on the dock ladder.
"It was very nice," says Gertie, "but I'm kind of out of breath."
On the patio, Rita has Gertie's favorite cocktail waiting for her — a Perfect Manhattan. Gertie raises her glass and toasts her bucket-list team: "As a friend of mine used to say, I'm glad you got to see me."
Everybody wants to know what Gertie's favorite bucket list adventure was, and she is reluctant to choose. "It was all beautiful," she says. "But I guess skydiving was my favorite."
What's next on the list, they wonder. "I'm trying to think of what to do next," she says. "Right now, I'm tired."