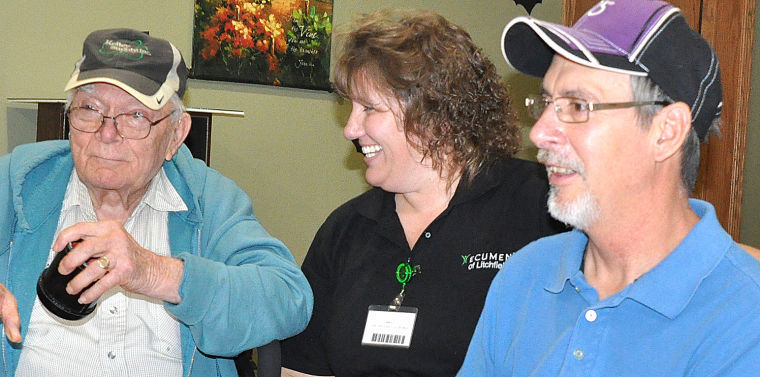 Head of the Adult Day Services program in Litchfield, Dawn Doty enjoys a dice game with clients Donald and John. Staff photo by Andrew Broman, Litchfield (MN) Independent Review.
Courtesy of Litchfield Independent Review
By Andrew Broman, Editor
Patricia Lopez never imagined that her Spanish-speaking mother, Alicia Cono, would have learned how to speak English this late in life, especially given that Cono suffers from dementia.
But that's what has happened during Cono's time at Ecumen of Litchfield's Adult Day Service. The program serves people with dementia, providing them a place to socialize and do activities during daytime hours, from 8 a.m. to 4 p.m.
"I'm just amazed she's learning English. I thought that wasn't possible," Lopez said in September during a visit with her mother and other families involved in Adult Day.
Dawn Doty heads the program, located on North Holcombe Avenue, and works with as many as 13 clients, six to eight on a daily basis. Her clients come from all types of backgrounds, and she was nervous, at first, about Cono joining because of the language barrier. "I was very concerned … because I don't want anyone to feel left out or not welcomed," she said.
But the barrier turned out to be less of a problem than Doty initially thought, and now Doty is even learning some Spanish. What's most important is that Cono is having a good time and stimulating her mind, which is what caregivers want when they enroll their loved one in Adult Day.
The program, Doty said, caters as much to the client as it does to the caregiver, who is often a spouse or an adult child. Many caregivers work during the day and cannot stay home to watch a spouse or parent with dementia. "Adult Day can provide the break needed," she said.
Adult Day has provided peace of mind for Jenny Defries, whose mom, Ethel Sandry, has been attending the program for about one year. Sandry had been staying alone at home before coming to Adult Day.
"We were running into problems like leaving the ovens on or leaving the stove on," Defries said.
Clients enrolled in the program are in different stages of dementia. While some clients are still healthy enough to stay home, they're prone to watching a lot of TV and leading an inactive lifestyle at home, which can exasperate dementia symptoms, including depression.
"Sitting at home by herself is not helping her dementia," Defries said of her mom.
At Adult Day, clients stay busy throughout the day, whether by socializing with others, putting together a puzzle, playing a dice game, doing some gardening or working out on an exercise machine. The group also goes on field trips, including to local lakes, the farmers market, restaurants, Walmart and even a horse farm.
Sandry, a self-described "worry wart," said attending Adult Day is reassuring. "I think we all understand that we are safer with somebody that we know, with somebody that cares about us," she said.
To enroll in the program, prospective participants and their families meet with Doty, fill out paperwork and discuss whether Adult Day is a good fit. Whether the program is appropriate depends, in part, on the severity of dementia symptoms. People at risk for wandering, for example, would not qualify because of safety concerns, Doty said.
As people's symptoms progress and become more severe, they leave the program. "We have lost a few because they were in the late stages of Alzhemier's, and they had to move onto another facility," Doty said. But the idea is that, in promoting an active lifestyle, the program will allow clients to stay in their homes longer and delay dementia's advance.
The program's cost depends on various factors, including whether an individual's insurance covers the program. A person's military and income status might also affect how much families are required to pay.
The families currently participating in Adult Day give the program high marks, stating it's made a difference for the client and caregiver alike. Lopez said she occasionally asks her mother whether she'd like to stay home when there's somebody available to be with her. But Cono prefers coming to Adult Day. "I"m just grateful this program existed," Lopez said.
*************************************
You can read the original article online at Finding Comfort in the Midst of Dementia