On the Eve of Her Retirement Ecumen Bethany's Sandi Vatthauer Reveals Her Secrets for Hiring the Very Best Caregivers
Sandi Vatthauer knows the stakes are high when hiring caregivers, and she has developed a shrewd method of screening the best prospects that has very little to do with the job interview.
After a career screening thousands of job candidates, the time has come to turn the table on Sandi Vatthauer and interview her about secrets for hiring good people. She's retiring soon as the Human Resources Director at Ecumen Bethany Community in Alexandria, Minn., where she came late in her career after holding corporate HR jobs in the Twin Cities.
Caring for her own mother prompted Sandi's interest in working in a senior living community, and she has found a deep satisfaction along with a heightened sense of responsibility. "Senior care is all about giving loving care," she says. "It's work of the heart."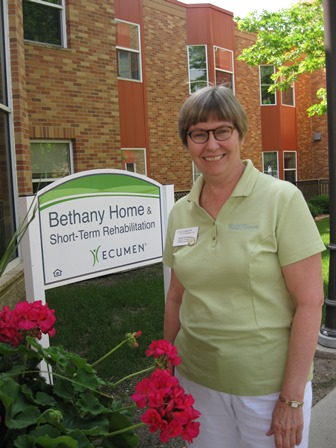 So if you have an interview with Sandi, do not expect her to look across a desk and ask you a bunch of questions about your accomplishments. Expect her to look deep into your heart.
When a prospect shows up for an interview, Sandi can see out into the lobby from her office. She lets the candidate sit there while she observes. Is the prospect smiling? Greeting the people who walk by? Interacting with residents? Comfortable in the environment?
Then she goes out, introduces herself and says, "Before we go back to my office for the interview, let's take a tour." And it is an extensive tour, with Sandi introducing the prospect to staff and residents, while walking all around the community, including the less glamorous parts.
Throughout the tour, she's closely watching how the prospect interacts and is asking herself: Does this person fit the culture?
"You don't get to know people across a desk," Sandi says. "I want to get a feel for how the person would fit in here, and I want them to get a feel for exactly what it's like here. This is a two-way decision. I want to give them a realistic look — to see for themselves. If you walk into a Target and then into a Walmart, you get two very different impressions. And those impressions are meaningful."
After she has sized up a job prospect based on the tour, she then asks the definitive question — not to the prospect but to herself. "I ask myself if I would want this person taking care of me," she says.
Having a background in other types of businesses has given Sandi a basis of comparison for her work at Ecumen Bethany Community. And she has reached this conclusion: "In senior living the stakes are so much higher than retail or manufacturing."
Caring for people with honor, especially the elderly, "is much more complex and important than producing widgets," Sandi says. "The people we hire truly set us apart. And our employees create the culture of care."
Sandi is tentatively scheduled to retire August 2. Even though she will miss the job, she's decided the time is right to end an unusual career path that started with a biology degree from the University of Minnesota.
When Sandi figured out that "rats and monkeys were not my life's calling," she gravitated to a job advising pre-med students at the University of Minnesota. That morphed into a Human Resources career, which was not such a big leap, she says, "because people are biology. I discovered that I like to see people happy and achieve their dreams."
From there, she moved into traditional HR jobs in leadership development, training, compensation and generalist roles. She worked primarily in the printing industry at Deluxe Corporation and later at Northstar.
Sandi grew up in the Twin Cities, but spent a lot of time with her grandparents in Osakis, Minn., near Alexandria. She decided to leave the Twin Cities for a more rural quality of life and held several jobs in the Alexandria area before coming to the Ecumen Bethany Community three years ago.
"I saved the best for last," Sandi says. "This changed my life. It gets in your blood. The staff and residents are like family. Our work is creating home."
But now, she says, it's time to enjoy her grandchildren, make jelly, get more involved in her church and the community, and go camping with her husband, a former park manager.
And she will not be a stranger at the Ecumen Bethany Community. "I will be back," Sandi says, "as a volunteer."