Enventis Grant Brings More Technology to Ecumen Pathstone Living
Thanks to a technology grant from Enventis, a communications company headquartered in Mankato, Minn., more residents at Ecumen Pathstone Living are going digital.
Enventis, formerly known as HickoryTech, gave a $2,000 grant to Ecumen Pathstone Living to purchase iPads and iPods, which residents are now using to listen to music, play games and access YouTube. Also, some residents are using the devices to listen to church services as well as nature sounds. The grant money was also used to purchase a $250 Amazon gift card to be used for downloading books and music.
In the photo (below) resident Willy Kjarum learns about the iPad from Jodi Fales, a recreation assistant.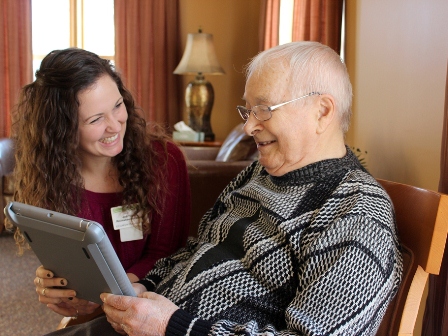 Beth Colway, the development coordinator at Ecumen Pathstone Living, says the activities staff has been introducing the new equipment to residents, who are enjoying all the new possibilities.
Enventis offers broadband Internet, digital TV, and voice and data services to businesses and consumers in southern Minnesota and northwest Iowa and other communication and data systems to businesses across a five-state region.
Ecumen Pathstone Living, which has been serving the Mankato area for more than 75 years, provides services including skilled nursing care, short-term rehabilitation, memory care, and assisted living apartments. Pathstone also offers home care, adult day services, and catering services. More than 500 people each day benefit directly from Pathstone services. Ecumen Pathstone Living is owned by Ecumen, the most innovative leader in senior services.
In the photo (below) Enventis representatives Jennifer Spaude and Janet McCullough make the ceremonial check presentation to Jennifer Pfeffer, executive director of Ecumen Pathstone Living.