Ecumen Velocity 2017 Class Holds First Workshop
The Ecumen Velocity 2017 class held its first two-day session this week, focusing on the theme of "Authenticity and Emotional Intelligence."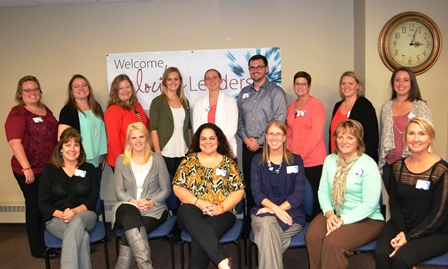 Velocity 2017 Class: FRONT ROW, Left to right: Diane Erickson, Carly Erichsrud, Kylie Johnson, Gail Guck, Judy Loecken, Kelly Maas. BACK ROW: Tina Nessman, Shannon Leininger, Anne Diekmann, Gabbi Langan, Nicole Anderson, Brett Anderson, Michelle Reynolds, Janelle Meyers and Christy Johnson.
The Ecumen Velocity 2017 held its first two-day session this week, focusing on the theme of "Authenticity and Emotional Intelligence."
The workshop included numerous leadership development activities, a Velocity alumni panel, and a discussion with CEO Kathryn Roberts.
The Velocity program, now in its seventh year, focuses on building leadership skills with emphasis on encouraging broader thinking, exploring innovative approaches, and developing each individual's authentic personal leadership style. To practically apply the course work, the class has an action-learning project that addresses real issues facing Ecumen and the aging services industry.
The program emphasizes collaborative problem-solving that incorporates different approaches and perspectives. Participants come from all parts of the company, and graduates cite exposure to the diverse thinking of their colleagues as a key benefit of the experience, along with the strong bonds that form with colleagues.
Each year in September, the incoming Velocity class members do self-assessments and get feedback from coworkers to inform the emotional intelligence and authenticity segment of the program, which marks the start of the process. Participants spend 10 to 15 hours a month on Velocity program activities. Four times during the year, the group gathers for a two-day session that includes in-depth discussions, readings and conversations. In January they begin working on their action-learning project, designed to address major issues and challenges Ecumen and the aging services industry is facing.
This year's Velocity co-facilitators are Carolyn Perron, Vice President of Organizational Development, and John Oliver, IT Director of Application Development & Support. The mentors, all graduates of Velocity, are Christy Johnson, Recreation Therapy Director at Ecumen Parmly LifePointes, Anne Diekmann, Quality Improvement Nurse, and Janelle Meyers, Director of Innovation.