Chuck McKiernan, a resident at Ecumen Seasons at Maplewood, is done with treadmills. He stills has the scars where he fell off one. But when his good friend Millie did a treadmill face plant and sustained serious injury, that put him over the edge.
Chuck exercised his checkbook and bought a $6,500 NuStep recumbent cross trainer, which he donated to Seasons at Maplewood in honor of the McKiernan family.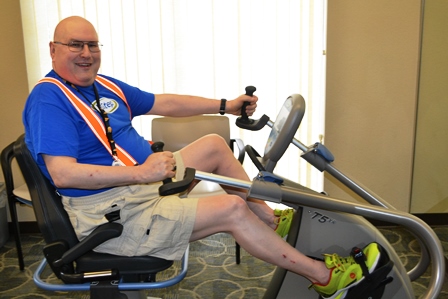 "So many people going through rehab just can't use a treadmill," Chuck says. "They need low impact exercise." And he should know.
While he was going through cardiac rehabilitation at a local hospital, he was walking on a treadmill and had another heart attack. When he fell, the treadmill didn't automatically shut down, making a mess of his leg below the knee.
That's how he first learned about the NuStep, whose inventor was specifically striving for a better, safer type of exercise for those managing heart disease. The NuStep gives a total body workout in a seated position.
This was all swirling in Chuck's mind as the Residents Council at Seasons at Maplewood was dealing with a budget problem. They were debating priorities — a new security system versus new exercise equipment. Both were important, but the security system got the nod.
And that's when Chuck decided to do what he could about the exercise equipment.
"This is such a generous and considerate donation," says Hope Summers, the Housing Director at Seasons at Maplewood. "We are all so grateful to Chuck for his gift and for his concern for other residents. The NuStep meets a very real need. The residents are lining up to use it."
"It's about helping others," says Chuck, a jovial guy who is enjoying telling fellow residents all about the new machine. "It's easy-on, easy-off," he says, showing a woman how to scoot out of her walker and on to the NuStep.
"I'm not using it as much as I should," Chuck says. "But I'm spending a lot of time instructing others."
To acknowledge the donation a group of grateful well-wishers assembled in the Fitness Center recently. Chuck and his cousin Dale Grambush gathered with Resident Council President Larry Bauer-Scandin, Council Secretary Betty Lundberg, Hope Summers, Ecumen Regional Manager Joe Signore, the former Housing Director here, Maintenance Manager Billy Flanagan, and Ecumen Director of Development Amy Williams.
As the group assembles, Chuck is flipping through a magazine. "Look here!" he says. "Here's my next donation. It's a Scrabble game with pieces that are 150 percent bigger. I know some people who have trouble reading those little pieces."
Celebrating the new equipment in the Fitness Center, (front row, left to right) Resident Council President Larry Bauer-Scandin, Chuck McKiernan, Council Secretary Betty Lundberg and (back row, left to right) Housing Director Hope Summers, Ecumen Regional Manager Joe Signore, Maintenance Manager Billy Flanagan, and Dale Grambush, Chuck's counsin.