Ecumen Scholars Fellowship Program Graduates Its 2016 Class
Ten nursing students recently graduated from the Ecumen Scholars Fellowship Program after an intensive three-week program learning about senior care.

Students with Ecumen CEO Kathryn Roberts
Ten nursing students recently graduated from the Ecumen Scholars Fellowship Program after an intensive three-week program learning about senior care.
Ecumen started the program in 2014 in partnership with Minnesota State Colleges and Universities (MnSCU) with a $1.9 million grant from the Margaret A. Cargill Foundation. The fellowship program is part of a larger initiative designed to attract nurses to senior care jobs in rapidly aging rural Minnesota.
In addition to offering clinical rotations, internships and leadership fellowships to nursing students as they train, the program also offers financial incentives to student nurses who later take jobs at Ecumen communities. This was the second year the fellowship program has been offered.
The three-week fellowship program started June 6, and a graduation ceremony was held June 24 following a session with Minnesota Senator Kathy Sheran, a former nurse and nursing professor.
Sen. Sheran, who said her nursing background was instrumental in her Senate accomplishments, encouraged the students to take every opportunity to become involved and advocate for quality healthcare and give a voice to their patients. Nurses can influence change, she said, by using their experience and knowledge to impact healthcare issues.
The 10 students were exposed to all aspects of senior care including direct patient interaction, nutrition, therapy, home care, hospice, long-term and short-term care, adult day care and assisted living and memory care. The program was conducted primarily at Ecumen Pathstone Living in Mankato.
Jody Bloemke, who manages the Ecumen Scholars program, said she was pleased with how the second fellowship class went. Based on the learnings from the program last year, she said this year's curriculum allowed for much more direct interaction with residents and more leadership and management training.
Bloemke said the students frequently commented on how much they loved interacting with the residents and how much they were going to miss them. "One afternoon after a leadership training, we had them take residents outside for a walk. They just glowed from the experience. As they came back in, one of the students shouted 'I just love the residents!'"
A major realization students had from the fellowship experience, Bloemke said, was the importance of building relationships with residents to improve the quality of care. They learned about people as individuals with unique histories and needs.
Prior to graduation, the fellows spent a day at the Ecumen Home Office in Shoreview, meeting with Ecumen leaders.
"You are pioneers," Ecumen CEO Kathryn Roberts told them. "There is no other program in the country that has this kind of relationship with higher education to develop nurses interested in senior care."
Judy Blaseg, Ecumen Executive Vice President for Philanthropy, told the fellows: "There are not enough of you to take care of me and my peers. Thanks for taking this ride with us. This work is really important and not being done anywhere else. You are really special to us."
One of the program's objectives is to attract more nurses to senior care by countering preconceived notions of what working in nursing homes and assisted living communities is like.
"We got a lot more insight in all aspects of senior care," said Tove Beck, a nursing student at Minnesota State University (MSU) at Mankato. "I was surprised at how exciting senior care can be."
Several fellows commented on the value of their exposure to all the different roles required to operate senior care communities in addition to nursing. "I especially liked learning more about dementia care," said Jessica Carey, a student at St. Cloud State University. "I feel like I knew nothing."
Several students echoed her feelings, saying their college nursing programs focused mostly on basic nursing skills and the fellowship program allowed them to get deeper insights into senior care and feel more empathy for the challenges seniors face.
As part of the program, they were required to do typical tasks while wearing "aging suits" designed to simulate the challenges of growing old. The suits limit sensory input, coordination and balance.
Bloemke said students learned firsthand how much aging affects people's lives and how much impact their role as nurses can have in delivering quality care.
"It's so rewarding to see how much they have grown and gained confidence," Bloemke said. "It's fun to watch. They have so much potential."
This year's graduating class of fellows were:
Nicole McKenzie, MSU-Mankato
Jessica Carey, St. Cloud State University
Lindsay Hagel, MSU-Mankato
Amanda Anderson, St. Cloud State University
Sahra Rashid, MSU-Mankato
Rachel Carriveau, MSU-Mankato
Ashley Hiebert, MSU-Mankato
Emily Lawrence, St. Cloud State University
Tove Beck, MSU-Mankato
Blake Altenhofen, MSU-Mankato
—
Want more information? Go to the Ecumen Scholars page on the ecumen.org website.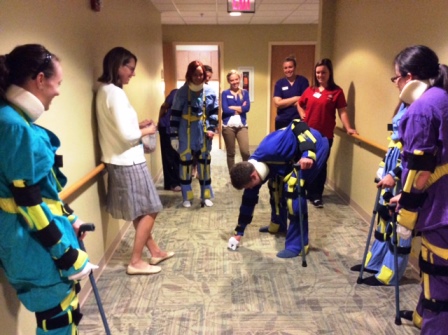 Students in "aging suits"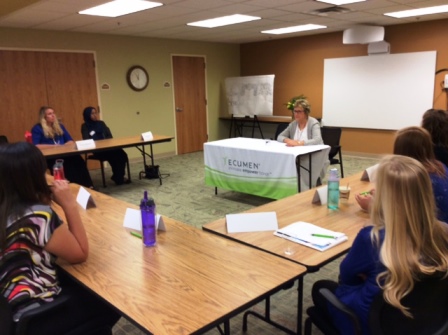 Students with Sen. Sheran