Ecumen Scenic Shores Care Center in Two Harbors, Minn., has received the highest possible overall quality rating of 5 stars from the Centers for Medicare and Medicaid (CMS).
The quality rating system ranges from 1 to 5 stars, with a 5-star rating given to nursing homes that offer exceptional care to their residents. The Five-Star Quality Rating System is based on health inspections, staffing data (the number of hours of care provided to each resident by nursing staff), and quality measures (how well a nursing home cares for residents' physical and clinical needs).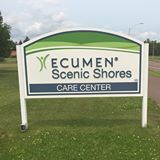 Ecumen Scenic Shores is the only care center in a 50-mile radius to receive 5 Stars.
"Receiving the 5-Star Quality Rating is a major accomplishment," said Steve Baukner, Executive Director of Ecumen Scenic Shores. "The rating is expert validation of the exceptional care we provide. This is one of the highest compliments our outstanding staff can receive."
CMS created the rating system to provide residents and their families with an easy way to understand and compare quality and simplify decisions around choosing a care center. Five stars is considered "much above average" and only a quarter of care centers in Minnesota received this rating. The CMS Nursing Home Compare website is at https://www.medicare.gov/nursinghomecompare/search.html.
Ecumen Scenic Shores is located at 402 13th Avenue, Two Harbors. In addition to providing nursing home and short-stay rehabilitation care, Ecumen Scenic Shores also offers assisted living. For more information call 218-834-8374 or visit www.ecumenscenicshores.org.