Ecumen's Corporate HR Team Takes Big Lessons From an Afternoon at Feed My Starving Children
By Camille Gross, Ecumen E-Learning and Training Coordinator
Ecumen's mission primarily focuses on serving older adults, but it's great to be part of an organization that encourages us to serve all ages.
Last week the Ecumen corporate Human Resources team went on a volunteer outing to Feed My Starving Children's site in Coon Rapids, Minn. We quickly learned how much of a difference just a little help can make in the lives of others.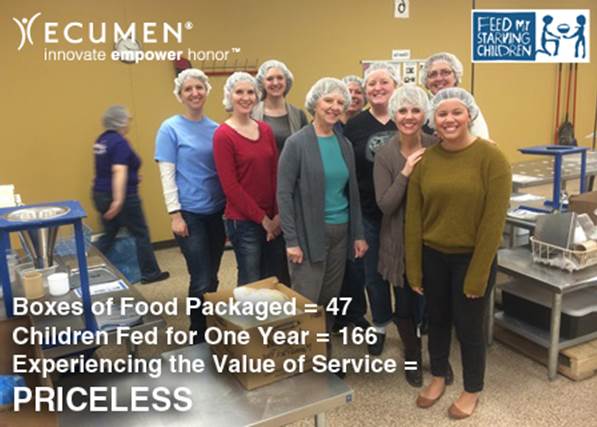 We packed food shipments to Jamaica and had an experience far more enlightening than we expected.
It's incredible to think that a few hours of volunteer work could have such an impact. Over the course of a half day's work, we were able to pack 47 boxes of food. With each box containing 216 meals, we were able to pack over 10,000 meals. We were told that our efforts were enough to feed 166 children for an entire year. Plus we got to wear cute hairnets and taste the food.
Also, the experience brought us closer as a team. Packing food in an assembly line process, the nine people in our group became more comfortable as a team and felt a drive to become better – together. To ensure the success of the overall purpose, we had to rely on one another.
Some of us measured out the food — dried rice, soy and vegetables, along with vitamins. Others weighed and sealed packages. Others packed boxes. We quickly found ourselves in competition with other groups of volunteers — trying to see who could pack the most boxes.
It was a fun atmosphere, but we were focused on the job and driven to work as efficiently as we could. At the time we probably didn't realize it, but looking back, this is how our department must operate every day in order to succeed. We must strive towards the same goals and trust each other to support Ecumen employees in the best way we can.
Ecumen encourages employees to collaborate and provide excellent service to the people and communities we serve— and also to volunteer outside the company to help the community at large. We got a first-hand lesson in why that is such a good idea. Here's the bottom line on our afternoon of volunteering:
Boxes of food packaged= 47.
Children fed for one year=166.
Experiencing the value of service= Priceless.