Ecumen Resident Ken Thompson's Enduring Love Affair With Helen, Athletics and Worthington
The eyes sparkle and the smile widens as Ken Thompson's thoughts drift back to the early 1940s. World War II is heating up after the attack on Pearl Harbor — and he will soon be going to Iwo Jima — but right now Ken is a star basketball player at Hamline University at a time when the Pipers are a powerhouse national championship team. And he is in a dance class at Hamline, where he is paired with Helen Backe, by happenstance of height.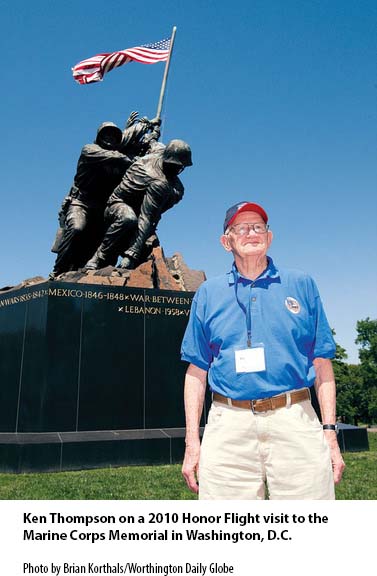 The basketball coach had this idea that the team could improve coordination by dancing, so he brought in a girls physical education class to dance with the players. Ken (at 6-2) and Helen were matched as the two shortest in the class.
They clicked, moving to the big band music. "We could really go up and down the floor," Ken recalls. "But we had trouble going east and west."
Quickly they figured it out. "By the sixth class, it was romance," Ken recalls. "She was a honey."
Now Ken is 93, and Helen died almost four years ago. At his assisted living apartment at Ecumen Meadows in Worthington, Minn., Ken enjoys reflecting on their 66 years together as they raised their family while he built a career as a legendary coach and athletic director at Worthington High School. Throughout all those years, they continued to go dancing every week. "It was just our special thing together," Ken says.
This morning, before he starts telling his life story, Ken is doing what coaches do— replaying in his head last night's basketball game that he watched between Worthington and Pipestone. He still cares about high school sports even though he has been retired from Worthington High School for more than 30 years. The measure of the man is that some of the athletes he coached still come to visit him at Ecumen Meadows. (They are now in their 70s.)
Ken grew up in Saint Paul, Minn., "as poor as grass" and went to Johnson High School where he was all-city in basketball in 1938 and also was an outstanding baseball player who later played semi-pro baseball in the Northern League.
But his dream was to play basketball for the renowned Hamline University basketball coach Joe Hutton. That would have to wait three years until he saved enough money to afford college by working at grocery stores and at Northwest Airlines. At age 21 in 1941, Ken became a freshman forward at Hamline and a star player for Coach Hutton.
At that time, the university was a national basketball power that produced a number of NBA players, notably Hall of Famer Vern Mikkelsen, who later became a teammate of Ken's. "Since I had worked three years before I went to college, I was older than most players on the team," Ken recalls. "Vern called me 'Dad.'"
That 1941-42 season, the team won a National Association of Intercollegiate Athletics (NAIA) national championship. They were 23-1, losing only to the Harlem Globetrotters, who at that time played regular basketball. (In 1999 Ken was inducted into the Hamline University Athletic Hall of Fame.)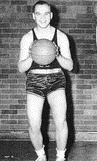 While he was at Hamline, World War II was raging, and in 1943 he enrolled in the Navy Reserve and reported to Gustavus Adolphus College in St. Peter, Minn., as part of his midshipman school training. He was eligible to play basketball for the Gusties due to his military service and earned All-State honors that year. In 1944 Ken went on active duty in the Navy and was stationed on the USS Missoula, which was carrying Marines to the Pacific islands. In June of that year he took a brief leave to marry Helen.
Ken commanded landing crafts from the Missoula that took the Marines on shore at Iwo Jima. He proudly remembers watching the dozen Marines hoist the flag from his ship on Mount Suribachi in what would become probably the most famous photo from World War II.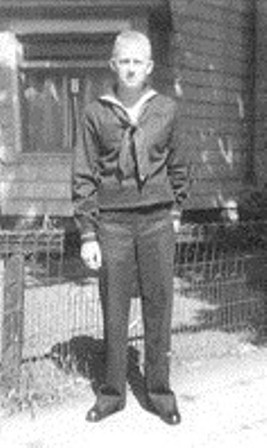 Shortly afterward, he helped land troops on Okinawa, where the Japanese kamikaze pilots were "flying so low I thought they were going to take the top of our heads off."
The war ended while he was still aboard the Missoula, and he remembers sailing past the USS Missouri the day the final peace agreement was signed in a surrender ceremony on that ship—Sept. 2, 1945. That was a very good day, but on so many other days he saw "so many men lose their lives." Ken's gaze drifts back those 70 years and clearly the memories are still painful. He clouds over and changes the subject.
With the war done, Ken returned to Hamline and played two more seasons of basketball, qualifying for another national tournament but losing in the third round. In one memorable game against DePaul University, Vern Mikkelsen fouled out, and Ken, at 6-2, was tapped to guard the 6-10 DePaul University star George Mikan, who, like Mikkelsen, went on to play in the NBA for the Minneapolis Lakers.
In 1947, Ken and Helen moved to Worthington. His first year there, he coached at the junior college, then moved to Worthington High School as head basketball coach in 1948. In his first season as coach, he led the Trojans to their first District 8 championship since 1926. The team would go on to win two more district titles in 1951 and 1952 during his 11-year stint as basketball coach.
"I used to say that basketball was a class I taught, and the test was every Friday night."
During this same period, he also coached baseball, football and golf and taught earth sciences at the high school and middle school. He was a self-proclaimed "rock hound," who spent several summers in programs that advanced his training as a geologist.
Ken says he was not a coach who yelled and screamed because "I didn't have to." He remembers the kids who played for him, almost without exception, as being hardworking and dedicated. In his whole time as a coach, he cut only one player.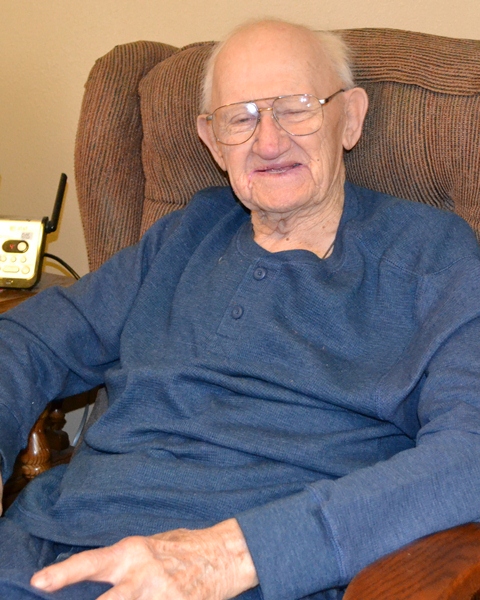 In 1959, he became the athletic director at Worthington High School, a job he held for 24 years, while continuing to coach golf. His 1957 golf team won a state championship, and in the 28 years he coached golf his teams won 22 district championships in a row and nine regionals. As athletic director, in addition to supervising and mentoring the other coaches and handling the budgeting and administration of sports programs, he ran the district basketball tournaments.
In 1982, he retired after 36 years with District 518. For a while after that, he managed the Prairie View Golf Course in Worthington. Two heart bypass operations slowed him down, but up until last May when he moved into Ecumen Meadows, he lived in the family home in Worthington, which he still owns.
Over all these years, Ken and Helen raised two daughters, danced and played golf together, and made Ken's sports career a family affair. Helen would go to the basketball games with the kids and her ever-present scorebook in tow. She intently scored all the games—"always by the book." Like Ken, she too would be named to the Worthington Trojans Hall of Fame for her dedication as a Trojan athletics booster.
Ken looks back on those days thankful for how blessed he was. The job was great, the kids who played for him were wonderful, and his family was supportive.
"I never walked into that school a day wishing I didn't have to," Ken says.