Ecumen Regional Operations Directors Paul Libbon and Craig Barness joined a delegation of LeadingAge Minnesota members on Capitol Hill in Washington, DC, this week to meet with the Minnesota congressional delegation to voice concerns about the impact of the American Health Care Act (AHCA) on seniors and their caregivers.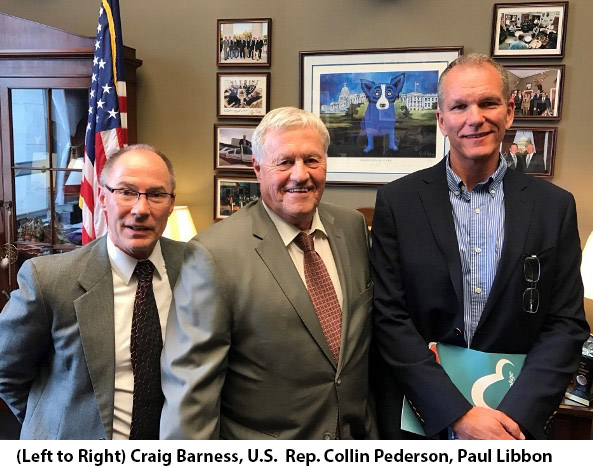 The LeadingAge delegation met with Congressmen Erik Paulsen, Rick Nolan, Collin Pederson and Tim Walz, as well as lead staff from the offices of U.S. Senator Al Franken, U.S. Senator Amy Klobuchar, U.S. Representatives Keith Ellison, Tom Emmer, Jason Lewis and Betty McCollum.
Democratic members of the Minnesota congressional delegation are all universally opposed to the AHCA, which calls for a per capita funding system or block grant program that would negatively impact seniors at a time when more support is needed. The Congressmen encouraged LeadingAge Minnesota members to share stories of those who would be harmed by this legislation with them, their state elected officials and their local media.
All three Republican members of the Minnesota congressional delegation – Rep. Emmer, Rep. Lewis and Rep. Paulsen – have indicated that they will support the AHCA when it comes to the House floor for a vote. The LeadingAge delegation used the meetings as an opportunity to further educate them on who receives Medicaid services in Minnesota, how the state is being penalized for being an early innovator in cost savings and the unfunded mandate the AHCA creates on the State of Minnesota.
Additionally, they asked for regulatory relief on three fronts: Delay implementation of Requirements of Participation for skilled nursing facilities for one year after guidance is issued; Suspend Home and Community-Based Settings (HCBS) rule; and Repeal automatic loss of authority to train CNAs for three years due to penalties in survey process for skilled nursing facilities.
You can participate in LeadingAge Minnesota's Advocacy Campaign – Protect Medicaid and register your opinions on the AHCA.
–
This article compiled from a LeadingAge Minnesota report. Go here for the complete article